Yangtze River Cruise
What's it like onboard
What it's like on a
Yangtze River cruise
I prepared this web page to give you an idea of the Yangtze River cruise ship experience. You're not roughing it on the better ships. Just the opposite. Life aboard them is quite comfortable and a vacation in itself.
This page gives you photos and brief insights on one of the quality ships. I chose the Victoria Star cruise ship for illustration purposes because I sailed on it and found its staff knowledgeable and hospitable. Moreover, the Victoria Star is part of the fleet of Victoria Cruises, a company with a good reputation.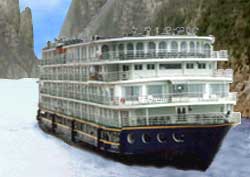 Victoria Star - basic info
This cruise ship is almost a football field in length (89 meters or 294 feet). It has 103 cabins accommodating 206 passengers and moves at 28 kph (17 mph). The ship was recently refurbished, renovated and structurally rebuilt.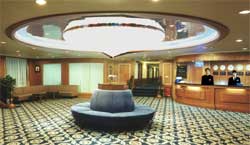 Main lobby
Spacious. Includes a front desk and a gift shop. The lobby is also used as the gathering spot for your shore excursions.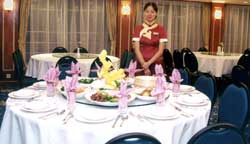 Dining room
The Dynasty dining room is large enough to serve all passengers in a single seating. Breakfasts and lunches are buffets with Western and Chinese specialties. Dinners are multi-course banquets with table service.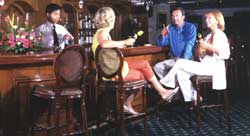 Yangtze Bar
Pleasant setting for pre- and post-dinner cocktails.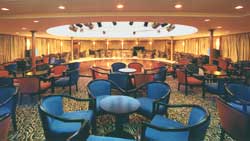 Yangtze Club
The Yangtze Club is used for seated cocktails, late dancing, special events, and live entertainment (see next item).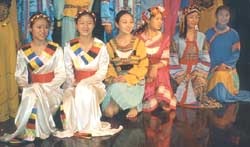 Folk dances and fashion shows
The club is also the venue for folk dance performances and traditional fashion shows depicting different dynasties and ethnic lands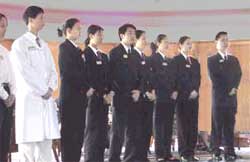 Ship staff
Photo shows introduction of departmental managers and the doctor. Staff to passengers ratio is high, about two staffers for every three passengers.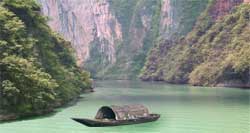 Shore excursions
There is at least one shore excursion per day. They include the most popular side trip attractions: Shibaozhai Temple, Three Gorges Dam, and either the Lesser Three Gorges (see photo) or Shennang Stream.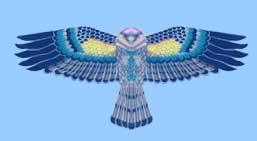 Onboard activities
You have a choice of many free onboard activities including cultural lectures and demonstrations on calligraphy, Chinese painting, Mandarin language, acupuncture, Tai Chi, Yangtze River history, and (see photo) kite making & flying.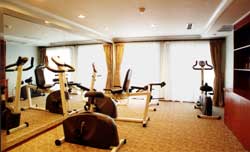 Fitness room
Facilities include a treadmill, exercise bike, step machine, and light weights.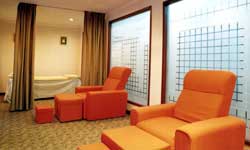 Spa
Offers both Chinese and Western style massages.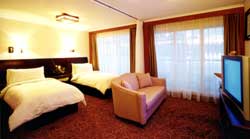 Suite
Learn my other
Yangtze Cruise tips and insights
Why it's special
Best 5 boats
When to go + Routes
Three Gorges + Shore excursions
Three Gorges Dam
What it's like aboard
More tips & insights
Top 10 Wonders of China
Chinese cuisine
Visit the China National Tourist Office website

World's Top 100 Wonders
World's Top 1000 Wonders
Site map
My credentials
About my website and criteria
Reader testimonials