Teatro Amazonas
Travel tips you can trust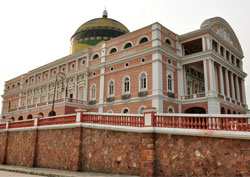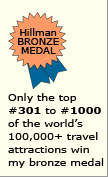 Why the
Teatro Amazonas
is special
The grand Manaus Opera House, as it is also known, was built in the late 19th century in the middle of the jungle.
Teatro Amazonas
tips and insights

Beginning
Rich rubber barons financed the project, partially because of an inferiority complex. They wanted to the world to see them as being cultured. Refined crystal chandeliers, top-grade marble, among other decorative items were imported at great expense from Europe.
The doors opened in 1896 and renowned musical artists from Europe and beyond were booked.

Decline
The Amazon rubber market collapsed in the early 20th century. Emerging competition in Southeast Asia and the discovery of artificial rubber were the culprits. The rubber barons either left or closed their wallets. Concerts and operas ceased for many generations - and the neglected exterior and interior of the building deteriorated.

Rebirth
The Teatro Amazonas was restored in the late 20th century. World-class orchestra, dance, and opera performances were resumed. And a springtime opera festival was added to the event schedule.

Location in Brazil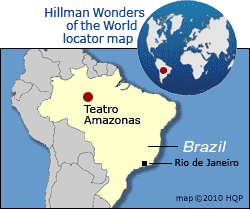 Know my other
Brazil tips and insights
Amazon Rainforest
Brasilia
Carnival in Rio
Christ the Redeemer Statue
Copacabana Beach
Fernando de Noronha
Iguacu Falls
Ipanema Beach
Niteroi Contemporary Museum Art
Panoramic Views
Salvador de Bahia
Sugar Loaf Mountain
Teatro Amazonas
Brazil Wonders - Top 10 Rankings
Brazilian cuisine


World's Top 100 Wonders
World's Top 1000 Wonders
Site map
My credentials
About my website and criteria
Reader testimonials