Malaga
cruise port of call
Cruise tips you can trust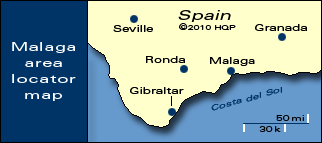 Why Malaga
is special to cruisers
Malaga in Spain is within day-trip reach of several world-famous travel destinations.
Top 5
shore-excursion
destinations near Malaga

Granada
The Moorish palace-fortress Alhambra resides in Granada. The Alhambra is one of the world's top 100 travel wonders.

Seville
Although Seville is about 200 kilometers (120 miles) from Malaga, its Alcazar palace and its Cathedral & Giralda Tower make the trip worthwhile.

Rock of Gibraltar
Take a cable car to the top for panoramic views (Africa is sometimes visible). Explore caves and military tunnels. See Barbary apes.

Costa del Sol seaside resort towns
Marbella, Puerto Canus, and Torremolinos have the most tourism appeal.

Ronda
The historic Ronda bullring and the deep ravine that splits the town are Ronda's top two tourist draws.
To see the
top 5 attractions
within Malaga, click


Helpful Mediterranean cruise tips
Best itineraries
Best time to go
Best cruise lines
Top 10 Mediterranean Ports of Call
1 Civitavecchia Gateway to Rome
2 Piraeus Gateway to Athen
3 Venice Italy
4 Livorno Gateway to Florence
5 Istanbul
6 Dubrovnik Croatia
7 Naples Gateway to Pompeii + more
8 Marseille Gateway to Provence
9 Nice Gateway to French Riviera
10 Malaga Spain
Best shore excursions in...
What it's like on a
Mediterranean cruise ship

World Wonders - Top 100 rankings
World Wonders - Top 1000 list
My credentials
About my website and criteria
Reader testimonials
Site map