Port of Nice
cruise port of call
Cruise tips you can trust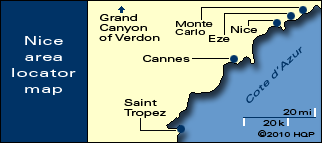 Why Nice
is special for cruisers
Although Nice is short on tourism draws, it's the prime excursion launch port for the fabled Cote d'Azur and Monte Carlo.
Top 5
shore excursion
destinations near Nice

Monte Carlo
It offers visitors more than just its world famous Grand Casino. Other leading attractions include old town, palace, harbor setting, and Oceanographic Museum.

Saint-Tropez
It's the celebrity-watching mecca of France and has many chic boutiques and restaurants. The nearby Tahiti Beach is famous for topless sun worshipping.

Eze
The village of Eze is perched high on a hill overlooking the Mediterranean Sea. Eze's medieval stone buildings and meandering alleys take you back in time. Eze is pronounced "ezz" (sort of rhymes with "says").

Villefranche-sur-Mer
This picturesque old town has the Cote d'Azur cachet, without the flaunt. It's a pleasant seaside destination for taking a short break from cruising.

Cannes
The world famous Cannes Film Festival attracts international film stars and moguls in mid to late May. Unless you're in the biz, this is not the time to visit. Cannes is jammed and the festival excitement occurs in private and sold-out events.
More
Nice shore excursion
tips & insights

For pre- and
post-cruise visitors
The Grand Canyon of Verdon is a Hillman Wonders bronze-medal winner This natural wonder makes an excellent full-day tour.

French cuisine
Click French cuisine to read my web pages on Provence and other regional French cuisines.


Helpful Mediterranean cruise tips
Best itineraries
Best time to go
Best cruise lines
Top 10 Mediterranean Ports of Call
1 Civitavecchia Gateway to Rome
2 Piraeus Gateway to Athen
3 Venice Italy
4 Livorno Gateway to Florence
5 Istanbul
6 Dubrovnik Croatia
7 Naples Gateway to Pompeii + more
8 Marseille Gateway to Provence
9 Nice Gateway to French Riviera
10 Malaga Spain
Best shore excursions in...
What it's like on a
Mediterranean cruise ship

World Wonders - Top 100 rankings
World Wonders - Top 1000 list
My credentials
About my website and criteria
Reader testimonials
Site map