Best
shore excursions
near the Mediterranean
Cruise tips you can trust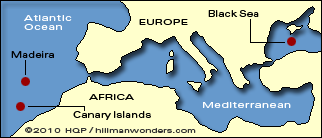 Note: The three destinations on the map and described on this page lie either in the Atlantic or Black Sea. Some Mediterranean cruise itineraries include them. Click Black Sea + And more to see other near-the-Mediterranean shore excursions.
Key


Canary Islands
shore excursions
I list island names rather than port names for the Canary Islands because travelers are more familiar with the island names.

Fuerteventura



Day trip to Lanzarote Island.

Gran Canaria



Tajeda and Teror.

Lanzarote



Timanfaya National Park's lunar-like volcanic landscape.

Lanzarote



Scenic trip to Teide volcano with a cable car ride to the summit.

La Palma



Caldera del Taburiente. Tazacorte Port.

Tenerife



Scenic trip to Teide volcano with a cable car ride to the summit.
NOTE: I listed no "in or near the port" shore excursions for the Canary Islands and Madeira Islands because none of their major cruise ports has a truly exceptional one. It's the half- and full-day tours that make the islands special for a sophisticated traveler.
Madeira Island
shore excursions

Funchal



Scenic hiking. Beach sunbathing.
For more
near the Mediterranean
tips, click
Near the Mediterranean - PAGE TWO


Helpful Mediterranean cruise tips
Best itineraries
Best time to go
Best cruise lines
Top 10 Mediterranean Ports of Call
1 Civitavecchia Gateway to Rome
2 Piraeus Gateway to Athen
3 Venice Italy
4 Livorno Gateway to Florence
5 Istanbul
6 Dubrovnik Croatia
7 Naples Gateway to Pompeii + more
8 Marseille Gateway to Provence
9 Nice Gateway to French Riviera
10 Malaga Spain
Best shore excursions in...
What it's like on a
Mediterranean cruise ship

World Wonders - Top 100 rankings
World Wonders - Top 1000 list
My credentials
About my website and criteria
Reader testimonials
Site map