Shore excursions
near Mediterranean

Black Sea

and more
page 2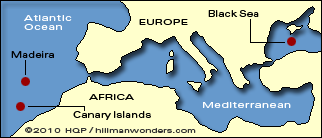 Note: Click Canary Islands + Madeira Island for the other near-the Mediterranean shore excursions.
Key


Black Sea
shore excursions

Constanta Romania




Old town.

Nessebur Bulgaria



Old Nessebur village.




Aladja Monastery.

Odessa Ukraine




Old town. Odessa catacombs.




Belgorod-Dnestrovski Fort.

Yalta Ukraine



Livadia Palace. Massandra Palace. Alexander Nevsky Cathedral.




Swallow Nest's Castle.
Other
near-the-Mediterranean
shore excursion ports

Casablanca Morocco



Casablanca's Medina.




Marrakech (your cruise ship must overnight).

Lisbon Portugal



Alfama district.




Sintra. Fatima.

Tangier Morocco



Medina. Kasbah.
For more
near-the-Mediterranean
tips, click
Near the Mediterranean - PAGE ONE


Helpful Mediterranean cruise tips
Best itineraries
Best time to go
Best cruise lines
Top 10 Mediterranean Ports of Call
1 Civitavecchia Gateway to Rome
2 Piraeus Gateway to Athen
3 Venice Italy
4 Livorno Gateway to Florence
5 Istanbul
6 Dubrovnik Croatia
7 Naples Gateway to Pompeii + more
8 Marseille Gateway to Provence
9 Nice Gateway to French Riviera
10 Malaga Spain
Best shore excursions in...
What it's like on a
Mediterranean cruise ship

World Wonders - Top 100 rankings
World Wonders - Top 1000 list
My credentials
About my website and criteria
Reader testimonials
Site map