Marseille
cruise shore excursions
Cruise tips you can trust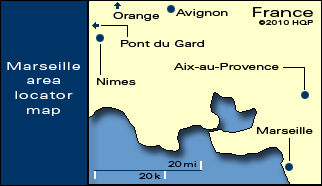 Why Marseille
is special for cruisers
Although Marseille lacks a rich variety of attractions, it is near world-class shore excursion destinations.
Top 5
shore excursion
destinations near Marseille

Avignon
Must sees: Palace of the Popes, Avignon Walls, and Bridge of Avignon.

Nimes
Its 20,000-capacity Roman amphitheatre is noticeably better preserved than the Coloseum of Rome.

Pont du Gard
This famous Roman aqueduct would rank higher on my shore excursion list if it required less travel time from Marseille.

Orange
The Orange Roman Theatre is massive and spectacular. Unfortunately, this destination suffers the same travel-time issue as the Pont du Gard.

Aix-en-Provence
Has a picturesque cityscape and a delightful cultural ambiance. "Axe" is pronounced "Ex".

Top runner-up
The town of Arles boasts a Roman amphitheatre and was Van Gogh's home during his most acclaimed period.
For more
Marseille tips, click


Helpful Mediterranean cruise tips
Best itineraries
Best time to go
Best cruise lines
Top 10 Mediterranean Ports of Call
1 Civitavecchia Gateway to Rome
2 Piraeus Gateway to Athen
3 Venice Italy
4 Livorno Gateway to Florence
5 Istanbul
6 Dubrovnik Croatia
7 Naples Gateway to Pompeii + more
8 Marseille Gateway to Provence
9 Nice Gateway to French Riviera
10 Malaga Spain
Best shore excursions in...
What it's like on a
Mediterranean cruise ship

World Wonders - Top 100 rankings
World Wonders - Top 1000 list
My credentials
About my website and criteria
Reader testimonials
Site map