Abu Dhabi
Persian Gulf cruise port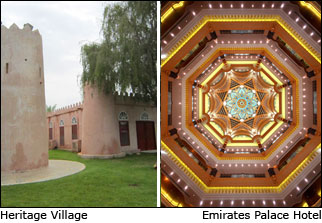 Why Abu Dhabi
is special
Before 1950, Abu Dhabi was an obscure fishing and pearl-diving village. Thanks to gushing oil revenues, Abu Dhabi blossomed with modern skyscrapers and broad, landscaped boulevards. Soon it became a major Persian Gulf cruise port of call.
Overall, the look and feel of Abu Dhabi are more cultured than Dubai's.
Top 3
Abu Dhabi attractions

Sheikh Zayed Mosque
It's fairly new and a must-see. The Mosque's main prayer hall boasts the world's largest carpet and a set of stunning chandeliers.

Heritage Village
This living museum features active workshops with skilled traditional artisans demonstrating their talents. Other draws include Bedouin tents.
Heritage Village is a popular Abu Dhabi attraction for Persian Gulf cruises. Avoid tour-bus shore excursion crowds by arriving soon after it opens in the morning or after 3:30 pm.

Emirates Palace Hotel
Of all the hotels I've seen around the world, the Emirates Palace Hotel is one of the grandest. Its lobby areas will amaze you. This is especially true when looking directly upward at the decorative inside of the 72-meter (240-foot) high dome. See photo.
Cruise passengers and other visitors are welcome to come inside even if just to sightsee. Or, you can dine in one of the upscale restaurants or have tea service.
Other leading Abu Dhabi
attractions include ...
Dune Safari (excursion)
Al Ain National Museum
Time Tunnel ride in Khalifa Park
Marina Mall
More Abu Dhabi
tips & insights

Quick facts

Abu Dhabi comprises several islands.

It is the capital of the United Arab Emirates that includes Dubai.

Many Abu Dhabi place names are named for UAE founder Sheikh Sayed who ruled from 1971-2004. Today, his son Khalifa reigns.

Top 4 cruise ports for visitors
1 - Dubai
2 - Abu Dhabi
3 - Muscat
4 - Khasab
+ Six other cruise ports
More Persian Gulf pages
Insights you should know
Is a Persian Gulf cruise for you?
Call it "Persian" or "Arabian" Gulf ?
More tips & insights

World's Top 100 Wonders
World's Top 1000 Wonders
Site map
My credentials
About my website and criteria
Reader testimonials