Muscat
Persian Gulf cruise port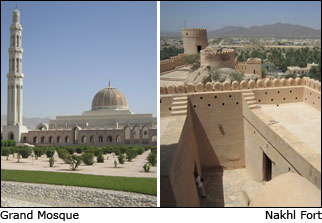 Why Muscat
is special
It's one of the most picturesque Persian Gulf Cruise ports of call because, by law, the buildings are white or light hued and have height limits.
Top 3 attractions

Grand Mosque
Though built in modern times, the Sultan Qaboos Mosque looks a tad like it's been around a long time. The huge main prayer hall is impressive. It has the world's second largest carpet and a colossal chandelier. Photography is permitted.
Non-Muslim visitors are welcome in the morning five days a week. Read my dress code guidelines on my Insights to Know web page.

Nakhl Fort
This photogenic restored fortress sits on the foot of a hill overlooking date palm groves. I enjoyed exploring its many rooms. Some are furnished in period trappings. Nakhl Fort is slightly over an hour's drive from Muscat.

Seeb fish market
Seeb town has Oman's most famous fish souk. It's 20-minutes by road from Muscat.
Come in the early morning when the market buzzes with buyer-seller haggling. By mid-morning, most of the fish and workers are gone.
Other leading Muscat
attractions include ...
Muscat gates & walls
Muscat Gate House Museum
Bahla Fort (excursion)
Main Muttruh souk
More Muscat
tips & insights

Scorching in summer
Do your mid-summer sightseeing early or late in the day. In June, the average high is 40ºC (104ºF). The record is 54ºC (129ºF).

Two sections
Muscat as the world knows it comprises two main sections:

Old Muscat
It's the most picturesque and is flanked by two old Portuguese forts.

Muttruh
It is more modern and is the principal business district.

Top 4 cruise ports for visitors
1 - Dubai
2 - Abu Dhabi
3 - Muscat
4 - Khasab
+ Six other cruise ports
More Persian Gulf pages
Insights you should know
Is a Persian Gulf cruise for you?
Call it "Persian" or "Arabian" Gulf ?
More tips & insights

World's Top 100 Wonders
World's Top 1000 Wonders
Site map
My credentials
About my website and criteria
Reader testimonials