Khasab
Persian Gulf cruise port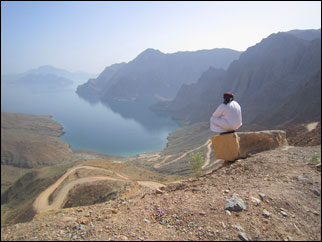 Why Khasab is special
Although the port town of Khasab offers little of interest to travelers, it's a base for two interesting half-day shore excursions:

Dhow fjord cruise


Harim Mountain safari
Dhow fjord cruise

Dhow tour
From Khasab, you take a mini-cruise aboard a dhow, a traditional wooden boat. Your vessel is motorized and outfitted with colorful cushions and carpets.
You sail inside the vast and remote Kor Sham fjord-like arm of the sea. You are surrounded by awesomely rugged, dry, barren, tall, limestone mountain slopes. They drop sharply into the water.
Your dhow tour lasts about four hours and returns you to Khasab.

Dolphins
They frolic along side of your dhow, putting on a memorable performance. Note: Your chances of seeing the dolphins are high, but not guaranteed.

Swimming and snorkeling
The boat anchors for about an hour to let you enjoy the clear, calm fjord water.

Telegraph Island
This isle once served as a 19th-century relay station for an underwater communication cable linking England with the Indian sub-continent. The lonely, isolated setting famously drove some workers insane. Today only building foundations remain.

Bad back?
If yes, then think twice about going on this dhow trip. Seat backs are floor-level cushions.
Harim Mountain safari

4-wheel drive vehicle
A good-conditioned SUV picks you up dockside in Khasab. It winds its way up to the summit of skyscraping Harim Mountain in the Musandam Peninsula's austere interior. Your driver makes several viewpoint stops along the way to let you enjoy and photograph the scenic terrain. At one stop, you'll see fossils embedded in rocks.

Best passenger seat
Most tours sit one passenger in the first row, three in the second. Sit in the first-row seat (next to the driver) for the best view of the soaring mountain landscape. The middle second-row seat has the worst sight lines.

Top 4 cruise ports for visitors
1 - Dubai
2 - Abu Dhabi
3 - Muscat
4 - Khasab
+ Six other cruise ports
More Persian Gulf pages
Insights you should know
Is a Persian Gulf cruise for you?
Call it "Persian" or "Arabian" Gulf ?
More tips & insights

World's Top 100 Wonders
World's Top 1000 Wonders
Site map
My credentials
About my website and criteria
Reader testimonials