Eilean Donan Castle
Travel tips you can trust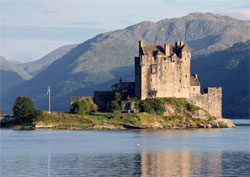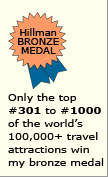 Why the
Eilean Donan Castle
is special
It is one of the world's most photogenic castles. Eilean Donan dramatically sits on a tiny island at the intersection of three lochs (lakes) in the Scottish Highlands.
Eilean Donan Castle
tips & insights

History in brief

A simple fortification existed on the island as far back as the 7th century.

However, it wasn't until the 13th century when a full-fledged castle-fortress was built.

In 1719, the structure was laid to ruins by naval gun fire and the intentional detonation of a sizeable cache of gunpowder stored within the walls.

It remained in that condition for 200 years until it was restored (1919-1932) to its current state.

Strategic location
for tourism
Eilean Donan Castle is on the main road to the Isle of Skye, a popular vacation and s ightseeing destination.

Namesake
Many believe it was named for the 6th century Saint Donan. The Gaelic word "Eilean" means "island" in English.

How to pronounce
Eilean Donan = "ee-LAHN don-un"

Location in Scotland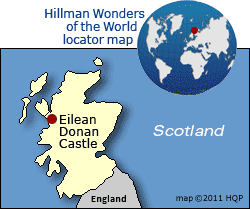 Learn about these
Wonders of Scotland
Scotland Wonders - Top 5 rankings
Edinburgh Castle
Eilean Donan Castle
Holyroodhouse Palace
Isle of Skye
National Gallery of Scotland
Orkney Islands
Outer Hebrides
Shetland Islands
St Andrews Golf Old Course
Scotland National Tourism Organization

World's Top 100 Wonders
World's Top 1000 Wonders
Site map
My credentials
About my website and criteria
Reader testimonials