Orkney Islands
Travel tips you can trust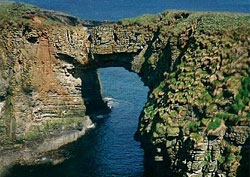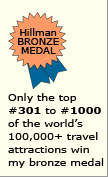 Why the
Orkney Islands
are special
Orcadians retain much of their traditional culture and the landscape bears significant archaeological sites and bucolic vistas.
Orkney Islands
tips and insights

Geography in brief
There are 70 islands (20 are populated). The archipelago lies 10 kilometers (6 miles) off Scotland's northeastern coast.
The Island of Mainland is the largest and is home to the two largest towns, Kirkwall and Stromness. The first is the capital, but the second is more pictureque.

Top attractions

Archeological ruins
The major ones include Standing Stones of Stenness, Skara Brae neolithic settlement, Ring of Brogfar, Maeshowe tomb, and many ancient circular stone towers called brochs.

Old Man of Hay
This slim natural sea stack (pillar) soars almost as high as a modern 40-story building.

Towering sea cliffs
View them on the Island of Hay.

Rural landscape
Most islands are low-lying and feature scenic rolling green and heather-hued hills dotted with cattle and sheep.

History in brief
The Orkney Islands have been inhabited since at least 6,500 BC. The Scandinavian Norsemen took control in 875 and Scotland followed in 1472.

Climate
The Orkney Islands are windy throughout the year. Gales are most likely to occur in the period from September to March.
Though far north, the climate is temperate thanks to the Gulfstream. Summers are a bit nippy. Winter days are cold, but seldom bitterly so.

Location in Scotland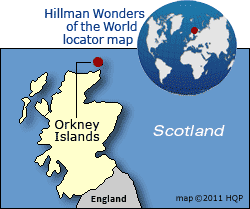 Learn about these
Wonders of Scotland
Scotland Wonders - Top 5 rankings
Edinburgh Castle
Eilean Donan Castle
Holyroodhouse Palace
Isle of Skye
National Gallery of Scotland
Orkney Islands
Outer Hebrides
Shetland Islands
St Andrews Golf Old Course
Orkney photo by Wolfgang Schlick - GNU 1.2
Scotland National Tourism Organization

World's Top 100 Wonders
World's Top 1000 Wonders
Site map
My credentials
About my website and criteria
Reader testimonials