St Andrews
Old Course
Travel tips you can trust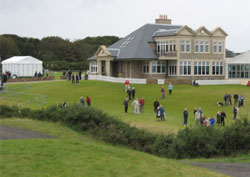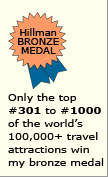 Why
St Andrews Old Course
is special
It is the world's oldest golf course, dating back centuries. St Andrews Old Course is also one of the most prestigious - golfers around the globe dream of one day playing on it.
St Andrews Old Course
tips & insights

History in brief
A document confirming the existence of St Andrews golf course dates back to 1552. However, strong indirect evidence suggests that it should be a half-century earlier.

When to come
Summers are grand but tee times are typically hard to come by unless you book a year in advance.

Green fees
They are about US$200 for the peak season (mid-April to mid-October). Green fees are appreciably lower in the winter, but it's cold and sometimes snowy.
St Andrews also encompasses five new golf courses. Their fees are significantly lower than the original one, but golfing on them lacks the latter's esteem and mystique.

Public golf course
Being public, anyone can play on the St Andrews Old Course - as long as one documents that he is at least an average golfer. A note from your golf club would suffice.

Never on Sunday
It's closed to golfing on Sundays. Locals bring picnic baskets.

Location in Scotland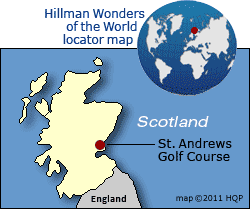 Learn about these
Wonders of Scotland
Scotland Wonders - Top 5 rankings
Edinburgh Castle
Eilean Donan Castle
Holyroodhouse Palace
Isle of Skye
National Gallery of Scotland
Orkney Islands
Outer Hebrides
Shetland Islands
St Andrews Golf Old Course
Golf photo by Christopher Gillian - CC BY 2.0
Scotland National Tourism Organization

World's Top 100 Wonders
World's Top 1000 Wonders
Site map
My credentials
About my website and criteria
Reader testimonials