Shetland Islands
Travel tips you can trust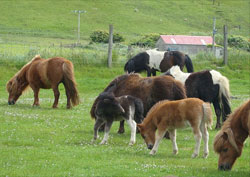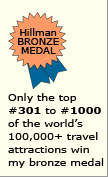 Why the
Shetland Islands
are special
They appeal to travelers and photographers desiring a remote getaway with strong links to its traditional past and a closeness to serene countryside settings.
Shetland Islands
tips & insights

Top attractions

Landscapes
They are picturesquely green, rolling, and dotted with wooly sheep.

Archaeological ruins
Those of Jarlshof (dates back 4,500 years) and the 7th century Clickimin Broch are best.
Other attractions include Scalloway Castle, Shetland Museum, fishing villages, birding, and the famous Shetland Ponies (see photo).

Geography in brief
The 110-kilomoter (70-mile) long Shetland Islands archipelago forms a boundary between the North Sea and the Atlantic Ocean. There are around 100 islands and islets, 15 of which are populated. The Shetlands islands are about 160 kilometers (100 miles) from the British mainland.

Climate in brief
Strong winds, cloudy skies, and erratic behavior best describe the weather,

Sunny days are the exception the year around.

Summer temperatures seldom reach above the 60s. And the wind-chill factor makes it feel even nippier.

Conditions can change from good to rough within several hours.

History in brief
The Shetland Islands were settled over 5,000 years ago. They were taken over by the Norsemen in the 9th century and by Scotland in the 15th century. Today, the Viking heritage is still apparent.

Location in Scotland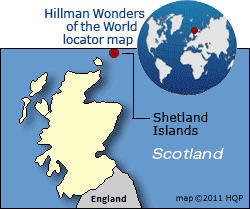 Learn about these
Wonders of Scotland
Scotland Wonders - Top 5 rankings
Edinburgh Castle
Eilean Donan Castle
Holyroodhouse Palace
Isle of Skye
National Gallery of Scotland
Orkney Islands
Outer Hebrides
Shetland Islands
St Andrews Golf Old Course
Shetland ponies photo by Hajotthu - CC BY 3.0
Scotland National Tourism Organization

World's Top 100 Wonders
World's Top 1000 Wonders
Site map
My credentials
About my website and criteria
Reader testimonials