Kimberly
Diamond Mine
Travel tips you can trust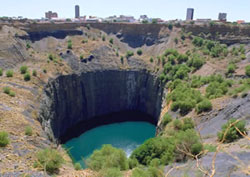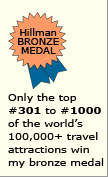 Why the
Kimberly Diamond Mine
is special
The Kimberly Diamond Mine is the world's most legendary mining endeavor. Its Big Hole captures the imagination of visitor
Kimberly
Diamond Mine
tips and insights

Big Hole (see photo)
This famous hole-in-the-ground was a hill when the mining began in the early 1870s. Over time, the workers dug deeper and deeper into the ground for diamonds until the opening became too deep to be mined effectively. The Big Hole was abandoned and rain water partially filled it.

Lesser hotels
The Kimberly Diamond Mine property has other gigantic excavated pits, which were also abandoned in due cours

New mining method
Today the shaft rather than the pit method is used. Miners work far below the ground using modern equipment and tools.

History in brief
When diamonds were discovered at the site in the early 1870s, floods of fortune seekers arrived. Most failed. A few became rich. The mining operation gained notoriety in the past for its treatment of its black workers.

Location in South Africa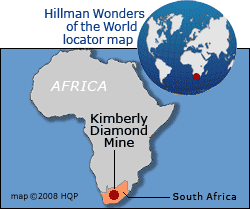 Learn More

for next Kimberly Diamond page
Know my other
South Africa tips and insights
Kruger National Park
Table Mountain NP
Cape Town & environs
Drakensberg Mountains
Phinda
Kimberly Diamond Mines
Panorama Route
South Africa Wonder map
Honorable mentions
Country facts & tidbits
Big 5 safari animal photos
Most famous foods

World's Top 100 Wonders
World's Top 1000 Wonders
Site map
My credentials
About my website and criteria
Reader testimonials