Panoramic Lounge
Travel tips you can trust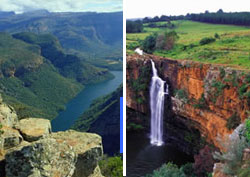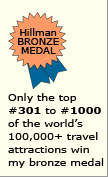 Why the
Panorama Route
is special
It runs along the top of an escarpment rising 800 meters (2600 feet) above the Blyde River Canyon and a vast green plain. The jewel is the Blyde River Canyon. Without it, the Panorama Route would not earn a Bronze Star. Still, some of the other Panorama Route attractions are interesting.
Major attractions of
the Panorama Route

Blyde River Canyon
There are two basic vantages:

From inside the canyon
This lets you see the striking geological formations at river level. However, this requires a modest side trip from the basic Panorama Route.

From the escarpment's rim
Read the next item.

Bird's-eye views
The Panorama Route has several cliff-edge lookouts. The top 2 are:

Three Rondavels
This vantage point has a grand view of the Blyde River Canyon and its Three Rondavels. These tall, side-by-side domed outcroppings are also called the Three Sisters.

God's Window
You see the plain below stretching to the horizon. You also catch sight of portions of the sheer cliffs on your left and right. However, you don't get the majestic view of Blyde River Canyon that you do at Three Rondavels lookout.
If you're short of time, I recommend skipping Wonderview, the third major belvedere. It's similar to the one at God's Window, but lacks its lateral sight lines.
Location in South Africa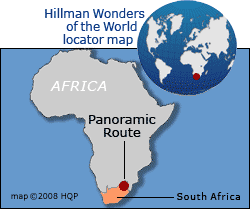 Learn More

for next Panoramic Route page
Know my other
South Africa tips and insights
Kruger National Park
Table Mountain NP
Cape Town & environs
Drakensberg Mountains
Phinda
Kimberly Diamond Mines
Panorama Route
South Africa Wonder map
Honorable mentions
Country facts & tidbits
Big 5 safari animal photos
Most famous foods

World's Top 100 Wonders
World's Top 1000 Wonders
Site map
My credentials
About my website and criteria
Reader testimonials