Kruger
National Park
Travel tips you can trust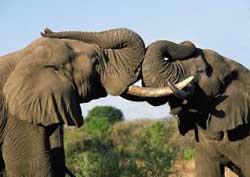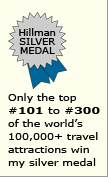 Why Kruger
National Park
is special
Kruger National Park is one of the top 5 safari destinations in the world.
Kruger National Park
tips and insights

Big 5 game
and more
Kruger has all the Big 5 wildlife (lion, leopard, rhino, elephant, and buffalo) plus many other must-sees including giraffe, hippopotamus, cheetah, zebra, and crocodile.

The four
major Kruger regions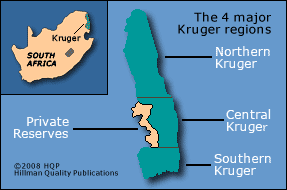 Three of the four are in Kruger National Park proper. The fourth consists of private game reserves that border or sligthly overlap the park.

Luxury
lodges and camps
The per-day rates at luxury lodges and camps in the private reserves are high, but you get what you pay for. Consider:

Game-viewing territories are exclusive or restricted, which means more animals, fewer people (which is just the opposite in Kruger National Park proper).

The private reserves have a much higher concentration of the big safari animals you come to see.

The guides and trackers are very knowledgeable and get you much closer to the animals (including lions and leopards) than their counterparts do in Kruger proper

These venues also have skilled cooks, pampering service, and stylishly furnished facilities.

Location in South Africa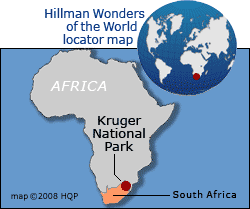 Learn More

for next Kruger page
Know my other
South Africa tips and insights
Kruger National Park
Table Mountain NP
Cape Town & environs
Drakensberg Mountains
Phinda
Kimberly Diamond Mines
Panorama Route
South Africa Wonder map
Honorable mentions
Country facts & tidbits
Big 5 safari animal photos
Most famous foods


World's Top 100 Wonders
World's Top 1000 Wonders
Site map
My credentials
About my website and criteria
Reader testimonials