Antarctica glossary
page 1 of 4
"South Pole"
There are
four South Poles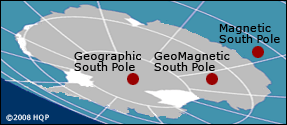 Geographic
South Pole
This is what we normally think of when we hear the word "south pole". By definition, it's the southern point of the axis of our planet's rotation. Its latitude is exactly 90-degrees south.
Note: The Ceremonial South Pole is a barber-striped pole encircled with national flags. It is set into the ice at the Geographical South Pole (see map above). It's a photo-op symbol, not a scientific indicator. Because the polar ice cap at the Amundsen-Scott South Pole Station drifts about 10 meters (33 feet) a year, the Ceremonial South Pole is accurate only when the staff repositions the marker, which seldom occurs.

Magnetic
South Pole
It's where you will end up if you follow the needle of your compass until it points skyward. This pole changes its position regularly. It is now submerged in the ocean, about 2,700 kilometers (1,700 miles) from the Geographic South Pole, in the general direction of Australia.

Geomagnetic
South Pole
It resides approximately midway between the Geographic and Magnetic South Poles - and like the latter, it wanders.
For more
glossary terms, click
PAGE TWO - Ice formations
PAGE THREE - More ice formations
PAGE FOUR - Other widely used terms


Best 3 Antarctica cruise ships
When to go
Who should go - and not go
Small versus big ship
Itineraries
Costs
What-to-pack checklist

Zodiac landings
How to identify penguins
Antarctica history in brief
Interesting facts & tidbits
Glossary
More pointers
Photo gallery

Top 10 experiences
Suite photos
Deck plans
Onboard enrichment
Dining & entertainment
Other onboard activities
Silver Explorer ship

Antarctica Cruise - Home page
Top 10 wonders of Antarctica

World Wonders - Top 100 rankings
World Wonders - Top 1000 list
My credentials
About my website and criteria
Reader testimonials
Site map


World's Top 100 Wonders
World's Top 1000 Wonders
Site map
My credentials
About my website and criteria
Reader testimonials