Ngorongoro Crater
lodges and camps
Safari tips you can trust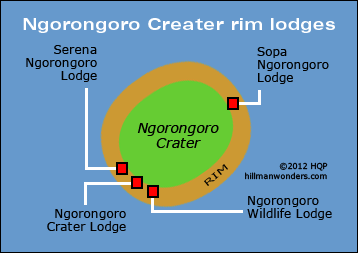 Lodging

Just four lodges
The number of lodges at the Ngorongoro crater is limited, but all of them are situated on or very near the rim. This gives guests breathtaking views of one of the outstanding natural wonders of the world. It stretches out to the horizon before their very eyes.

Rates
$$$$ = high, $$$ = mid-to-high

Best lodge:
Ngorongoro Crater Lodge - $$$$
The private decks of the 30 stylishly appointed guest suites have stunning views of the Ngorongoro Crater floor (see photo). High staff-to-guest ratio delivers superb service. Guests enjoy exclusivity and privacy.

The other three
lodges of the
Ngorongoro Crater

Sopa Lodge - $$$
92 guest suites are in semi-detached structures. All have wide, floor-to-ceiling windows overlooking the vast Ngorongoro Crater.

Ngorongoro Serena Lodge - $$$
Many of its 75 guest rooms have private rock-walled terraces offering crater views (ask for one).

Ngorongoro Wildlife Lodge - $$$
Good views, but the interior decoration of the 75 guests rooms is rather lackluster.
Ngorongoro camps

Options
There is a luxury camp (Lemala) on the rim. However, you don't get the sensational views of the crater from your room or main unit as you do from the lodges
The more basic campsites are not near the rim. Moreover, you simply cannot walk to the rim on your own for the view. The reserve makes that illegal for safety's sake (wild animals roam the rims and the crater's walls are hazardously sheer and deep). Your explorations require an accredited guide.
More Ngorongoro Crater advice
Ngorongoro Crater tips
Best 5 safari areas in Tanzania
Kilimanjaro side trip
Olduvai Gorge side trip
Zanzibar side trip
Ngorongoro Crater - Top 100 medal winner
Learn my other
safari tips & insights

Top 5 safaris
Top 10 safari mistakes
Kenya vs Tanzania

Botswana
Kenya
Kruger
Ngorongoro Crater
Serengeti
Tanzania

Top 5 safaris
Top 10 safari mistakes
Kenya vs Tanzania

Botswana
Kenya
Kruger
Ngorongoro Crater
Serengeti
Tanzania

Big 5 safari animal list
Big 10 safari animal rankings
Animal facts and tidbits
What it's like on a luxury safari
Comprehensive safari locator maps


World's Top 100 Wonders
World's Top 1000 Wonders
Site map
My credentials
About my website and criteria
Reader testimonials