Kenya vs Tanzania
safaris
Safari tips you can trust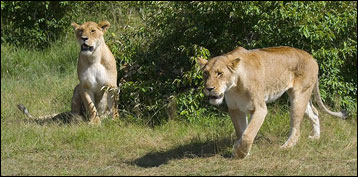 Comparing Masai Mara
with Serengeti safaris

Best safari reserve
in each country
It's the Masai Mara in Kenya and the Serengeti in Tanzania.

Best overall
The Serengeti in Tanzania easily wins the contest.

The Masai Mara has
become too crowded
Decades ago when I first visited the Masai Mara, it was a glorious experience because it attracted a relatively small number of safari-goers.
Nowadays, due to the Masai Mara's worldwide fame, the Masai Mara suffers from an excessive number of safari vehicles during its peak season.
In many popular Masai Mara spots, the safari landscape is sometimes dotted with minivans, which end up as unwanted background in your otherwise exciting African safari photos.
Thevehicular concentration of minivans and traditional safari vehicles diminishes your "in the wild" safari experience. (This is far less likely to occur in Tanzania's Serengeti because it has fewer visitors and is eight times larger than the Masai Mara.)

Besides offering a better
safari experience, the Serengeti
has exciting side-trip adventures
If you go to the Serengeti, you are only a half day by car from the Ngorongoro Crater, one of Africa's finest safari destinations. You are also relatively near Mt Kilimanjaro (climb it) and the Olduvai Gorge (see where our prehistoric ancestors lived). And exotic Zanzibar is easily reached by plane.
Learn More

for Kenya vs Tanzania page 2
Learn my other
safari tips & insights

Top 5 safaris
Top 10 safari mistakes
Kenya vs Tanzania

Botswana
Kenya
Kruger
Ngorongoro Crater
Serengeti
Tanzania

Big 5 safari animal list
Big 10 safari animal rankings
Animal facts and tidbits
What it's like on a luxury safari
Comprehensive safari locator maps

Photo by Paul Mannix - CC BY-SA 2.0

World's Top 100 Wonders
World's Top 1000 Wonders
Site map
My credentials
About my website and criteria
Reader testimonials