Kruger safari tips
Safari pointers you can trust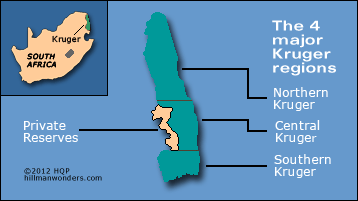 How the
Kruger safari
regions differ

Southern
This is the most tourist-crowded area of the Kruger safari areas. And vegetation is generally dense, reducing wildlife viewing. However, there are good cheetah and white rhino sightings in the more open areas.

Central
Its large portion of grassy plains makes it superior to the Southern and Northern areas in seeing grazing animals and therefore lions and other predators.

Northern
This is the least tourist-crowded area. Its upper part is hot, arid and remote. The lower part is good for elephant watching.

Private reserves
They have a much higher concentration of the Big 5 (lion, leopard, elephant, rhino, and buffalo) than exists in the other three regions. They also have most of the luxury lodges. Click the "Luxury lodges & camps" button for details.
When to go

Your wet or dry season decision will be mainly based on your priorities.

Wet season
occurs in the
Southern Hemisphere summer
It can be hot, humid and rainy. But rains are normally short. And the vegetation is greener, days are longer, and birding is at its best.

Dry Season
occurs in the
Southern Hemisphere winter
Nights are cold. However, days are warm. And with less foliage, more sunny days, and busier water holes, it's easier to see and photograph the wildlife. Moreover, reservations (except during holiday periods) are easier to obtain - and rates are typically lower. x
Learn More

for Kruger Safari tips - Page 2
My Kruger advice
Kruger safari tips and insights
Best lodges
Best side trips
South Africa safari guide
Learn my other
safari tips & insights

Top 5 safaris
Top 10 safari mistakes
Kenya vs Tanzania

Botswana
Kenya
Kruger
Ngorongoro Crater
Serengeti
Tanzania

Big 5 safari animal list
Big 10 safari animal rankings
Animal facts and tidbits
What it's like on a luxury safari
Comprehensive safari locator maps


World's Top 100 Wonders
World's Top 1000 Wonders
Site map
My credentials
About my website and criteria
Reader testimonials