Kruger safari
luxury lodges
Safari tips you can trust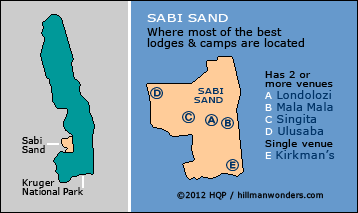 Key to understanding
Kruger geography

Private reserves
Virtually all the finest Kruger lodges and camps are not in Kruger National Park proper, but in private reserves that hug the park's central-western border. Sabi Sand is the finest.

Sabi Sand Game Reserve
It boasts the highest concentration of major game in the Greater Kruger area. And it has nearly 90% of Kruger's luxury lodges and camps.

Sabi Sand
geographical divisions
Sabi Sand is divided into over two dozen private game areas (such as the ones located with numerals on the map). Most have exclusive traversing rights (only the operator's vehicles are allowed).
The top 4 Sabi Sand
multi-lodge venues
Listing is alphabetical

Londolozi
Londolozi is run by the Varty family, a name long synonymous with luxury Kruger safaris. It has four camps: Bateleur, Founders, Pioneer, and Varty.

Mala Mal
It covers the largest expanse of the various Sabi Sand sections and has a fine reputation. The Main Camp, Sable Camp, and Rattrays are its three accommodation venues.

Singita
Its Boulders Lodge rests on a high, rocky site with sweeping views while its Ebony Lodge kisses the river. The decor in both is stylish, a Singita signature.

Ulusaba
Owned by Virgin Airlines founder Richard Branson. Ulusaba has two venues: Rock Lodge and Safari Lodge. Each must be booked on an exclusive-use basis by, for instance, a family or small group.
The best
single-lodge
venue

Kirkman's Kamp
Unlike the four venues above, Kirkman's Kamp has a homespun (though sophisticated) ambiance with a South African Colonial flavor. It's low-keyed luxury that many safari-goers relish. Click Kirkman's Kamp to see photos and my description of this lodge.
Learn More

for Kruger safari lodges - Page 2
My Kruger advice
Kruger safari tips and insights
Best lodges
Best side trips
South Africa safari guide
Learn my other
safari tips and insights

Top 5 safaris
Top 10 safari mistakes
Kenya vs Tanzania

Botswana
Kenya
Kruger
Ngorongoro Crater
Serengeti
Tanzania

Big 5 safari animal list
Big 10 safari animal rankings
Animal facts and tidbits
What it's like on a luxury safari
Comprehensive safari locator maps


World's Top 100 Wonders
World's Top 1000 Wonders
Site map
My credentials
About my website and criteria
Reader testimonials