Best
Serengeti safaris
Safari tips you can trust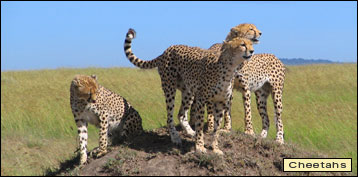 Why
the Serengeti is
the world's best
safari destination

The migration
is the reason
Make no mistake about it. Without the migration, I would rank the Serengeti behind these three famous safari destinations:

Ngorongoro Crater

Kruger National Park

Okavango Delta
The annual migration is that grand and mind-boggling.
Serengeti
tips and insights

Know when to be where
Be at the right place at the right time. Be where the migratory animals are. Use my animated month-by-month map: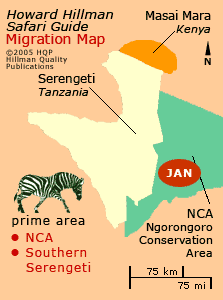 Seasonal changes
The grassy plains dramatically change from season to season, as professional safari photographers know. During and just after the local rains, grasses are lushly green. Then, the land turns a parched yellowish brown.

Size
The Serengeti National Park is one of the world's largest game reserves. This renowned safari destination spreads over 13,000 square kilometers (5,000 square miles), an area greater than some countries.
Learn More

for Serengeti Sefaris - Page 2
Learn my other
safari tips & insights

Top 5 safaris
Top 10 safari mistakes
Kenya vs Tanzania

Botswana
Kenya
Kruger
Ngorongoro Crater
Serengeti
Tanzania

Big 5 safari animal list
Big 10 safari animal rankings
Animal facts and tidbits
What it's like on a luxury safari
Comprehensive safari locator maps

Photo by Bpavacic - PD

World's Top 100 Wonders
World's Top 1000 Wonders
Site map
My credentials
About my website and criteria
Reader testimonials