Kruger safari tips
page 2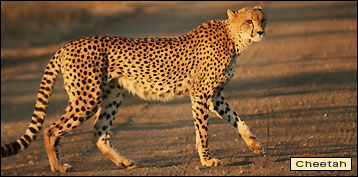 More
Kruger safari
tips & insights

Non-luxury
accommodations
Many exist, from no-frill camping sites to comfortable lodges, satisfying all budgets and preferences. They are fenced in to keep dangerous animals out.

Driving
You can drive your car inside Kruger, but be aware you must stay on the tar and gravel roads. Off-road driving is prohibited. So is getting out of your vehicle except in designated safe areas.

Speed limits
It's 50 kph (30 mph) on tar roads, 40 kph (25 mph) on gravel ones - and they are strictly enforced for the sake of the wild animals that dart across the roads.

Traffic
Kruger is visited by nearly a million people per year. Most are South Africans who drive up with their families for long-weekend getaways. During school-holiday weekends, traffic jams occur on some main park roads.

Organized tours
Complete packages are available. Or, once you are in the park, you can book several-hour game drives. Those drives typically use converted trucks with large-seating capacities (it won't be an intimate experience, but at least they are topless, which enhances your view).
Learn More

for Kruger Safari tips - Page 1
My Kruger advice
Kruger safari tips and insights
Best lodges
Best side trips
South Africa safari guide
Learn my other
safari tips & insights

Top 5 safaris
Top 10 safari mistakes
Kenya vs Tanzania

Botswana
Kenya
Kruger
Ngorongoro Crater
Serengeti
Tanzania

Big 5 safari animal list
Big 10 safari animal rankings
Animal facts and tidbits
What it's like on a luxury safari
Comprehensive safari locator maps


World's Top 100 Wonders
World's Top 1000 Wonders
Site map
My credentials
About my website and criteria
Reader testimonials