Cantonese cuisine
Food tips you can trust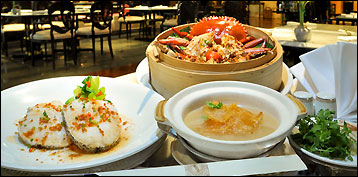 Why
Cantonese cuisine
is special

The three reasons

Cantonese cuisine is generally considered by gourmets to be China's best all around regional cuisine.

It's cooking is the most diversified and subtly seasoned in China.

Collectively, Cantonese diners have the most educated palates on earth.
Famous
Cantonese cuisine
specialties

Lobster Cantonese
Lobsters are little known in China outside of Canton. In this treatment, stir-fried lobster chunks in the shell are sauced with ground pork, eggs, and garlic.

Roast Duck
The whole bird is brushed with a sweet baste, then baked. When expertly prepared, the duck flesh is tender and succulent and the skin is crispy with a glistening dark reddish brown hue.

Buddha's Delight
A meatless dish of many fresh and dried vegetables combined in a stir-fry.

Lemon Chicken
Batter-dipped chicken pieces are fried, then stir-fried with lemon and cornstarch until they are glazed.

Dim Sum
A Cantonese cuisine institution. Dim sums are midday treats served on small plates. Hundreds of dim sum varieties exist. They can be hot or cold, savory or sweet. Popular favorites include steamed dumplings, deep fried spring rolls, baked meat filled pastries and stuffed crab claws. Diners make their selections off carts pushed through thedining room. Tea is the traditional beverage.

Cantonese cuisine region in China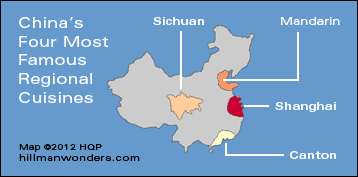 Learn More

for next Cantonese Cuisine page
Learn my Chinese tips
and insights on these pages
Click blue links
China's top 4 regional cuisines
Cantonese
Mandarin
Shanghai
Sichuan
Other main regional cuisines
Fukien
Hunan
Jiangsu
Shandong
Tibetan
Yunnan
Also read
10 most famous Chinese dishes
Chinese regional cuisine quiz
Chinese cuisine - Insights
Top 10 travel wonders of China
Photo by Sawasdee Chai - CC BY 3.0

Rankings
Peasant recipes
World wonders
Also read
Site map
About me and my credentials
About my website
Reader testimonials
Email me your opinion