Hunan and Yunnan cuisines
Food tips you can trust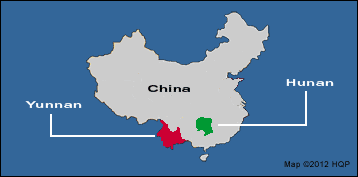 Hunan cuisine


General Tso's Chicken
Deep fried, batter-encrusted chicken cubes are coated with a spicy, sweet-and-sour garlicky sauce.


Seasoning
Hunan is known for its strong, fragrant, palate-scorching  seasonings. It vies with Sichuan for being China's chili-hottest cuisine.
Yunnan cuisine


Crossing the Bridge Noodles
This soup is Yunnan's most famous specialty. It is made with long rice noodles, chicken and vegetables. The name "Crossing The Bridge Noodles" refers to the act of a wife who was able to cross a bridge and deliver the soup to her scholar husband before it became cold.


Steam-Pot Chicken
The meat is steamed in a special pot with an open tube in its center.


Yunnan Ham
Cured in the cool mountain air. Somewhat akin to the Smithfield Ham of Virginia.


Varied local cuisines
Yunnan in southwestern China has extremely varied climates (tropical to Himalayan) and a multi-cultural environment (25 ethnic nationalities). This produces a wide range of local cuisines.

Top 4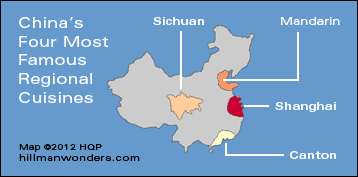 Learn my Chinese tips
and insights on these pages
Click blue links
China's top 4 regional cuisines
Cantonese
Mandarin
Shanghai
Sichuan
Other main regional cuisines
Fukien
Hunan
Jiangsu
Shandong
Tibetan
Yunnan
Also read
10 most famous Chinese dishes
Chinese regional cuisine quiz
Chinese cuisine - Insights
Top 10 travel wonders of China

Rankings
Peasant recipes
World wonders
Also read
Site map
About me and my credentials
About my website
Reader testimonials
Email me your opinion