More Sicily
food & beverage
tips & insights

Wines of Sicily
The three most significant:

Marsala
This is Sicily's best-known wine. It's a fortified wine similar to Sherry and Madeira. It can be dry or sweet and is widely used by chefs as a cooking wine.

Nero d'Avola
Italian wine experts consider this red to be Sicily's finest table wine.

Mt Etna
This dry white is better known abroad them the Nero d'Avalo red, but it's far from being in the latter's quality league.

Roots of
Sicilian cooking
Though several Mediterranean powers of old controlled all or parts of Sicily, it was the conquering Arabs who made the most enduring culinary imprint on this mountainous island anchored off the tip of the Italian peninsula. During the Middle Ages, the Arabs introduced the now famous Sicilian art of making sweets: sugary ices and rich pastries studded with candied fruits and almond paste.

Best city
for gourmets
Palermo is the top all-around food city in Sicily. Siracusa is the runner-up.

Learn More

for first Sicily food page
Also learn about these
Italian culinary regions
and their famous dishes
Italian culinary regions
Campania and its Naples
Emilia Romagna and its Bologna
Latium and its Rome
Liguria and its Genoa
Lombard and its Milan
Piedmont and its Torino
Sardinia
Sicily
Tuscany and its Florence
Veneto and its Venice
Plus some other regions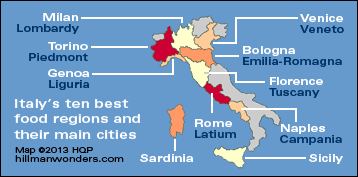 Also read
Italian cuisine - Home page
Top 10 Italy travel wonders
Italian Government Tourist Board

Rankings
Peasant recipes
World wonders
Also read
Site map
About me and my credentials
About my website
Reader testimonials
Email me your opinion