Luxury safari -
What it's like
page 2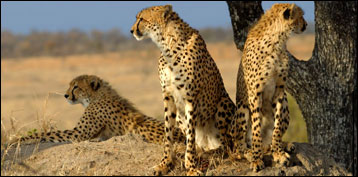 More
More
luxury safari
benefits

Interesting safari mates
You will meet and have interesting conversations with people are mostly refined, educated, and well-traveled.

Lasting memories
The specialness of a luxury safari rekindles fond recollections for a lifetime.
If you cannot afford
a luxury safari ...
Consider a mid-range or budget safari. It's better to go on a safari than not at all because it is an extraordinary and educational experience.
Research
My Luxury Safari Guide is based on my safaris in &Beyond (formerly CC Africa) game reserves: Ngala, Phinda, and Kirkman's Kamp in South Africa. It also reflects my safaris in Kenya and Tanzania with other operators. And I interviewed many seasoned safari-goers.
I chose &Beyond as the luxury-safari example in my guide because of its fine reputation among world travelers. Other worthy luxury safari organizations include Wilderness Safaris.
Learn More

for Why it's Special - Page 1
Learn my other
Luxury Safari tips and insights
NGALA
Intro
Tented Safari Camp
Walking Safaris Camp
Safari Lodge
PHINDA
Intro
Forest Lodge
Getty Lodge
Mountain Lodge
Vlei Lodge
Walking Safari Camp
Rock Lodge
Zuka Lodge
MORE POINTERS
Why a luxury safari is special
What you do on a typical day
Helpful info
MORE SAFARI TIPS
Top 5 safari destinations
Kenya vs Tanzania
Top 10 safari mistakes
Big 5 safari animal list
Animal facts AND tidbits
Click &Beyond to visit
this safari organization's website

World's Top 100 Wonders
World's Top 1000 Wonders
Site map
My credentials
About my website and criteria
Reader testimonials