Ngala safari - intro
luxury tips you can trust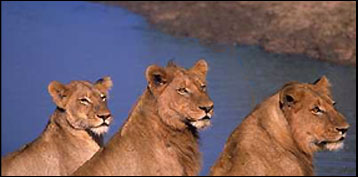 Introduction to Ngala

Three venues
Ngala has two camps and one lodge. I stayed in all three. Click the buttons below to view my text-and-photo web pages on them:
Tented Safari Camp
Walking Safaris Camp
Safari Lodge

Actually in
Kruger National Park
Unlike most Kruger-associated private game reserves, Ngala doesn't merely border Kruger National Park, it's part of it.
However, Ngala is off limits to non-Ngala guests. One cannot enter or set foot in it simply because he paid the Kruger National Park fee.

Noted for leopards
Ngala is a fine locale for spotting leopards. Reason: That animal survives best in a dense-vegetation landscape, which characterizes Ngala.

Other game animals
Ngala also has the other four Big 5 animals: lions, elephants, rhinos, and buffalo. But don't expect to see many cheetahs. They are scarce here because they are more successful hunters in an open savannah-type than in a bushy landscape.

The name
Ngala means "lion" in Shangaan. It was so named because Ngala is renowned for its lions.
Learn about Ngala's
camps and lodges
Walking Safaris Camp
Tented Safari Camp
Safari Lodge
Learn my other
Luxury Safari tips and insights
NGALA
Intro
Tented Safari Camp
Walking Safaris Camp
Safari Lodge
PHINDA
Intro
Forest Lodge
Getty Lodge
Mountain Lodge
Vlei Lodge
Walking Safari Camp
Rock Lodge
Zuka Lodge
MORE POINTERS
Why a luxury safari is special
What you do on a typical day
Helpful info
MORE SAFARI TIPS
Top 5 safari destinations
Kenya vs Tanzania
Top 10 safari mistakes
Big 5 safari animal list
Animal facts AND tidbits

Click &Beyond to visit its website

World's Top 100 Wonders
World's Top 1000 Wonders
Site map
My credentials
About my website and criteria
Reader testimonials