What you do

Luxury safari tips you can trust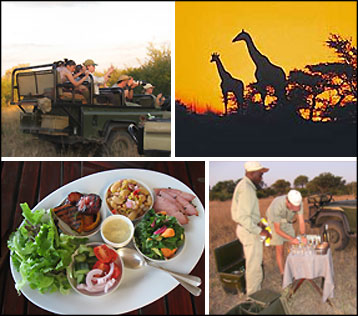 A normal
safari day

A day full of rich experiences
Luxury safaris are quite active because guests want to make the most of their learning-adventure trip. I prepared this timetable to give you an idea of a typical day.

5:30 am
After coffee and a light pre-breakfast snack, you depart on a 3- to 4-hour game drive with your ranger and tracker in their safari vehicle. Bring your camera and binoculars.

Morning drive
You stop in the wilderness for hot coffee, tea, or hot chocolate served with a light snack.

9:30 am
You return to the lodge, where a hearty breakfast awaits you. Or, sometimes, you enjoy a full-fledged bush breakfast in the "middle of nowhere".

10:00 am to 1:30 pm
This is the time to relax at the pool, take a nap, curl up with a book on your or the lodge's veranda, have a massage in your room, or join a one-hour ranger-led midday interpretative walk through the wilderness.

1:30 pm
Lunch is served, either in the main dining area or on your private veranda.

4:00 pm
After tea service with other guests, you embark on your several hour evening drive.

Evening drive
You get out of the safari vehicle to have cocktails with your safari mates in a remote natural setting.

8:00 pm
On your return from the drive, you have cocktails and dinner with your companions. This could be in the indoor dining area, or in an enclosed open-sky boma, or in the bush, or almost anywhere.

9:30 pm
You enjoy after-dinner drinks with your old- and new-found friends - or go to bed after your active day.
The times above are for summer. Winter times are slightly different because the daylight period is shorter. For example, the winter morning drives leave at 6 am, and dinner begins at 7:30 pm.
Learn my other
Luxury Safari tips and insights
NGALA
Intro
Tented Safari Camp
Walking Safaris Camp
Safari Lodge
PHINDA
Intro
Forest Lodge
Getty Lodge
Mountain Lodge
Vlei Lodge
Walking Safari Camp
Rock Lodge
Zuka Lodge
MORE POINTERS
Why a luxury safari is special
What you do on a typical day
Helpful info
MORE SAFARI TIPS
Top 5 safari destinations
Kenya vs Tanzania
Top 10 safari mistakes
Big 5 safari animal list
Animal facts AND tidbits

---
Click &Beyond to visit its website

World's Top 100 Wonders
World's Top 1000 Wonders
Site map
My credentials
About my website and criteria
Reader testimonials