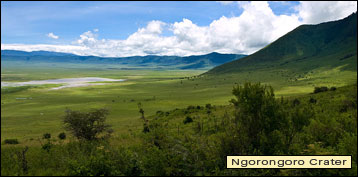 Ngorongoro Crater's
spectacular setting

Geology
Ngorongoro is the remnant of a volcano that blew apart, leaving a flat plain area ringed with steep walls.

Once soared high
The Ngorongoro volcano, before it exploded and collapsed 2 million years ago, was one of the world's tallest mountains.
Planning a safari?
View my candid
Safari Guide web section

My Safari Guide
Click this link. The tips and insights will save you time, money, and disappointment.

You will learn

20 common mistakes ...
that safari-goers make - and how to avoid them.

Rankings and descriptions ...
of the world's top 5 safari destinations:

Serengeti Migration (Tanzania)

Ngorongoro Crater (Tanzania)

Kruger (South Africa)

Okavango Delta (Botswana)

Masai Mara (Kenya)
Learn More

for NgoroNgoro tips - PAGE 1
Learn my other
safari tips & insights
Top 5 safaris
Top 10 safari mistakes
Kenya vs Tanzania

Botswana
Kenya
Kruger
Ngorongoro Crater
Serengeti
Tanzania

Big 5 safari animal list
Big 10 safari animal rankings
Animal facts and tidbits
What it's like on a luxury safari
Comprehensive safari locator maps

Photo by Bpavacic - PD
Photo by William Warby - CC BY 2.0

World's Top 100 Wonders
World's Top 1000 Wonders
Site map
My credentials
About my website and criteria
Reader testimonials