Java Island
Travel tips you can trust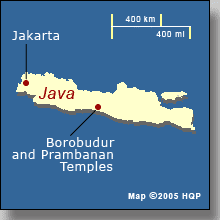 Why Java
is special
This large island is the home of Indonesia's capital city, Jakarta. But of more importance to travelers is that Java is also home to Borobudur. It is the world's largest Buddhist temple and a Hillman Wonders gold medalist.
Borobudur
tips and insights

History in brief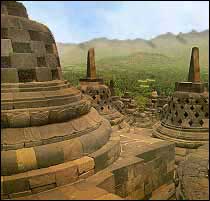 This massive Buddhist temple was built around the 8th century and, centuries later, was abandoned. Eventually, it accumulated dirt and volcanic ash. This half buried Borobudur -- and wild vegetation covered the rest. 
A British colonial officer came upon the virtually hidden Borobudur in 1814. A minor restoration was made in the early 1900s.
However, it was never repaired to a respectable degree until 1984, the year UNESCO finished its decade-long project. Borobudur was literarily taken apart and reassembled stone block by stone block.

Borobudur's master design
The ancient temple is ten stories high and measures over 120 meters (400 feet) per side.
The structure has nine concentric terraces. The six bottom ones are square, the three top ones are round.
The square terraces are trimmed with over 1000 Buddhist relief panels. They depict Buddhist scenes and are the greatest treasure of Borobudur.
The round terraces are garnished with over 70 large bell shaped stupas (see photo above). Originally, each housed a statue of Buddha (as some still do).
Learn More

for Borobudur - Page 2
Top 5 islands
travekers near Bali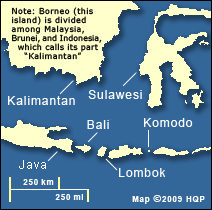 Read my Bali pages


Rice terraces


Dance & music


Arts & craft


Temples


Ubud


Sports


Luxury resorts


Kuta


Food


Beaches

Bali tip sheet
Bali attraction map
Best 5 nearby islands

World's Top 100 Wonders
World's Top 1000 Wonders
Site map
My credentials
About my website and criteria
Reader testimonials