Bali food
candid dining tips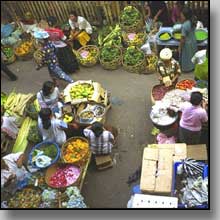 Why
Bali dishes
are special
They are distinct from dishes prepared elsewhere in Indonesia - and are considered by most international gourmets to be a cut above them.
Bali's four most
famous specialties
Be sure to try these famous specialties:

Babi Guling
Spit-roasted, crispy skinned suckling pig

Bebek Betutu
Spiced duck slowly cooked in palm or banana leaves

Lawar
Minced innards mixed with chopped vegetables

Bubuh Injin
Black rice pudding (served with sweetened coconut cream)
In Bali, most home cooks use quality meats, fresh seafood and newly harvested fruits & vegetables seasoned with an intricate blend of herbs and spices. Hot chilies are liberally used (though visitors can easily request "mild" in eateries).
Balinese
alcoholic beverages

Popular drinks
Native specialties:

Tuak
Sweet palm wine with low potency

Brem
Sweet non-distilled rice based drink with modest potency

Arak
Distilled rice based drink with strong potency
Imported spirits, wines, beers and soft drinks are expensive in Bali due to a hefty import tax. More affordable are the Indonesian made beers, soft drinks, wines (top seller is the Hatten brand rose).
Learn More

for Bali Food Cuisine - Page 2
Read my Bali pages


Rice terraces


Dance & music


Arts & craft


Temples


Ubud


Sports


Luxury resorts


Kuta


Food


Beaches

Bali tip sheet
Bali attraction map
Best 5 nearby islands

World's Top 100 Wonders
World's Top 1000 Wonders
Site map
My credentials
About my website and criteria
Reader testimonials