Bali temples
and ceremonies
Travel tips you can trust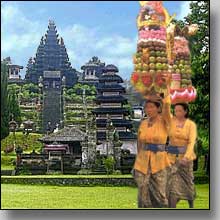 Why the
temples and ceremonies
of Bali are special
Bali is nicknamed The Island of the Gods because it has over 10,000 temples dedicated to an array of spirits. Each year the Balinese hold countless temple ceremonies and make frequent offerings to please the good spirits and appease the evil ones. The fascinating upbeat aura of these ceremonies is unsurpassed anywhere in the world.
Bali temples

The four best
and most popular temples
Each is a Hillman Wonders Bronze Medal winner.

Tanah Lot
Famous for its tiny, quaint island setting (reachable during low tide). Bursts with tourists during its vaunted sunset.

Besakih
Bali's largest and holiest temple is Pura Besakih (see photo). It's popularly known as the "Mother Temple".

Ulu Watu
Dramatically perched on high promontory overlooking the breaking surf.

Ulu Danu
Photogenic. On Lake Bratan
Religion

Religion runs
deep in Bali
About 95% of the Balinese practice Hindu-Dharmaism, a local variant of India's Hinduism. The faithful interweave their religion into their daily lives.

Spirits
To the Balinese, every living thing -- from a lowly weed to a human being -- has a spirit.
And the Balinese believe that there are both good and evil spirits -- and that this eternal duality exists in balance.
Learn More

for Bali Temples - Page 2
Read my Bali pages


Rice terraces


Dance & music


Arts & craft


Temples


Ubud


Sports


Luxury resorts


Kuta


Food


Beaches

Bali tip sheet
Bali attraction map
Best 5 nearby islands

World's Top 100 Wonders
World's Top 1000 Wonders
Site map
My credentials
About my website and criteria
Reader testimonials