Kalimantan
Travel tips you can trust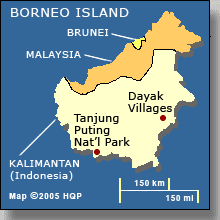 Why
Kalimantan
is special
Kalimantan has two world-class travel attractions:

Dayak Villages

Tanjung Puting National Park
Traveling to these two isolated Kalimantan destinations is an adventure in itself. You reach them on slow river boats.
Kalimantan
tips and insights

Dayak Villages
Some Dayak groups in Kalimantan were once known for their zealous headhunting (a long-gone practice) and deadly accurate blowguns. Dayak people are now known for their many small river side villages accented with traditional communal longhouses perched high on elevated stilts. Dayak cultural dances and weaving also attract visitors to Kalimantan.

Tanjung Puting National Park
This large governmental nature preserve in Kalimantan has an ecological focus and is a magnet for drawing nature lovers to Kalimantan.


Wildlife
Tanjung Puting is rich in exotic wildlife, including the elusive orangutan primate. And, there's the long-nosed proboscis monkey (see photo) found only on Borneo Island.

Vegetation
This large governmental nature preserve in Kalimantan consists mainly of low-lying mangrove swamps and (farther inland) tropical rain forests.

Kalimantan geography
Although Kalimantan is technically not an island, many Indonesians treat it as one because it comprises the lion's share of a large island (equatorial Borneo).
Top 5 islands
for travelers near Bali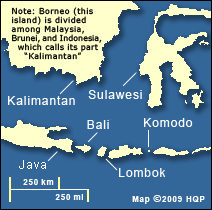 Read my Bali pages


Rice terraces


Dance & music


Arts & craft


Temples


Ubud


Sports


Luxury resorts


Kuta


Food


Beaches

Bali tip sheet
Bali attraction map
Best 5 nearby islands

World's Top 100 Wonders
World's Top 1000 Wonders
Site map
My credentials
About my website and criteria
Reader testimonials