Basilica Cistern
Travel tips you can trust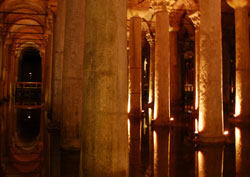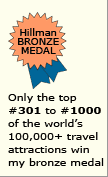 Basilica Cistern
tips and insights

History in brief
It was built in 6th century by Byzantine Emperor Justinian and was rediscovered in 1545 after being forgotten for centuries. It was cleaned, restored, and opened to visitors in 1987.

Ambiance
The sound of dripping water and classical music conjure up the Phantom of the Opera underground boat scene. The reflections of the lights off the water create an eerie, fantastical setting.

Walkways
You explore the space walking on the wooden platforms raised just above the water line. Before they were built, you had to ride a small boat.

Facts and tidbits

The 336 ancient marble columns that support the ceiling were recycled from demolished buildings. They are nearly 9 meters (30 feet) high.

The bases of two columns have sculpted Medusa heads and are popular with camera-toting tourists.

The water is very shallow today but sometimes nearly reached the high ceiling when the system was operational.

James Bond film fans will recognize this wonder. It was used as a location for From Russia With Love.

The site is within walking distance of the Hagia Sophia and Blue Mosque Hillman Wonders.

Location in Turkey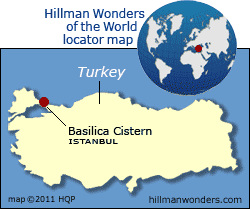 More turkey tips and insights
In Istanbul
Basilica Cistern
Blue Mosque
Dolmabahce Palace
Grand Bazaar
Hagia Sophia
Topkapi Palace
In other Turkey areas
Antalya
Bodrum
Cappadocia
Divrigi
Ephesus Ruins
Hierapolis
Mount Ararat
Nemrut Dagi
Pamukkale
Pergamon Acropolis
Ruins of Troy
Home page
Turkey Wonders - Top 10 rankings
Basilica Cistern photo by Chris Ruggles - CC BY 2.0
Turkish Culture and Tourist Office

World's Top 100 Wonders
World's Top 1000 Wonders
Site map
My credentials
About my website and criteria
Reader testimonials