Blue Mosque
Travel tips you can trust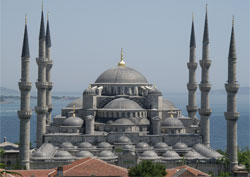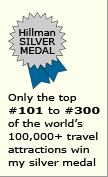 Why the
Blue Mosque
in Istanbul is special
This exemplar of Ottoman architecture is one of the world's most striking buildings.
Top 3
Blue Mosque
attractions

Domes
The cascading curvaceous domes gracefully adorn the structure.

Minarets
The slim, elegant minarets number six (a worldwide rarity).

Pray room
It's sizeable in area, thanks to the four mammoth stand-alone columns that support the dome. Floors are blanketed with donated carpets and the walls bear paintings and tiles with floral, arboreal, and abstract designs.
Blue Mosque
tips & insights

Name
"Blue Mosque" is a nickname, referring to the interior blue tiles (the exterior is gray). The official name is Sultan Ahmed Mosque, a tribute to the early 17th century ruler who built this wonder.

Not as outstanding
as it once was
Sorry to say, replicas of inferior artistic and workmanship quality have been used to replace aging items like tiles and stained glass windows.

Comparing it the
nearby Hagia Sophia
No doubt, its ex-mosque neighbor the Hagia Sophia is a greater wonder, partially because its astonishingly enormous dome dates back a thousand years earlier. However, the Blue Mosque wins the beauty contest. So enjoy both.

Location in Turkey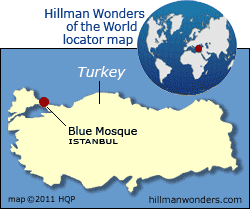 More turkey tips and insights
In Istanbul
Basilica Cistern
Blue Mosque
Dolmabahce Palace
Grand Bazaar
Hagia Sophia
Topkapi Palace
In other Turkey areas
Antalya
Bodrum
Cappadocia
Divrigi
Ephesus Ruins
Hierapolis
Mount Ararat
Nemrut Dagi
Pamukkale
Pergamon Acropolis
Ruins of Troy
Home page
Turkey Wonders - Top 10 rankings
Blue Mosque photo by Rev Stan - CC BY 2.0
Turkish Culture and Tourist Office

World's Top 100 Wonders
World's Top 1000 Wonders
Site map
My credentials
About my website and criteria
Reader testimonials