Dolmabahce
Palace
Travel tips you can trust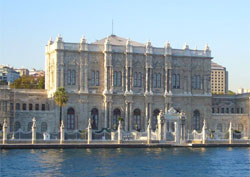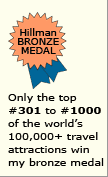 Why the
Dolmabahce Palace
in Istanbul is special
The main rooms of the building (completed in 1856) are lavishly decorated. The Sultan spared no expense - gold, silver, and fine crystal were freely used.
Top 3
Dolmabahce Palace
attractions

Ceremonial Hall
The room is imposing and impressive. The focal point is the 4.5-ton crystal chandelier (gift of Queen Victoria) that dramatically hangs from the tall dome.

Crystal Staircase
Its striking balustrade is made of Baccarat crystal.

Harem
The Sultan's family resided in the harem's sumptuous living quarters.
More
Dolmabahce Palace
tips and insights

Why it was built
One reason is the Sultan was desperately trying to convince the world that his Ottoman Empire was modernizing and not crumbling. The more practical reason was to replace the getting-cramped-and-dated Topkapi Palace as the governmental seat.

Design
Dolmabahce Palace is decidedly more European than Ottoman. It's also rather eclectic (French Baroque, Neoclassical, Ottomanesque, and more).

Touring the rooms
They can be seen only by the guided tour conducted by palace staffers.

Name
Dolmabahce translates "filled-in garden". It's built on land that was reclaimed from a bay for use as a garden.

Location in Turkey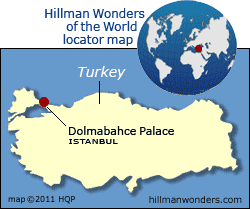 More turkey tips and insights
In Istanbul
Basilica Cistern
Blue Mosque
Dolmabahce Palace
Grand Bazaar
Hagia Sophia
Topkapi Palace
In other Turkey areas
Antalya
Bodrum
Cappadocia
Divrigi
Ephesus Ruins
Hierapolis
Mount Ararat
Nemrut Dagi
Pamukkale
Pergamon Acropolis
Ruins of Troy
Home page
Turkey Wonders - Top 10 rankings
Dolmabahce Palace photo by Yellow Book - CC BY 2.0
Turkish Culture and Tourist Office

World's Top 100 Wonders
World's Top 1000 Wonders
Site map
My credentials
About my website and criteria
Reader testimonials