Nemrut Dagi
Archaeological Site
Travel tips you can trust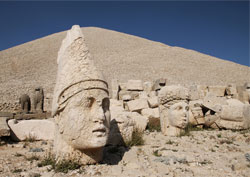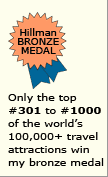 Why the
Nemrut Dagi
is special
Giant stone statues with their heads toppled off populate a remote spot in southeastern Turkey.
Nemrut Dagi
tips and insights

How to pronounce
Nemrut Dagi: nehm-root dah-uh

Who do the
statues depict?
The subjects are various gods and the vain King Antiochus I, who commissioned the project. There are also sizeable figures of lions and eagles.

Why did the
heads fall off?
No one knows for sure. Earthquakes are the likely cause. Another theory is they were knocked off centuries later by a displeased religious sect.

What is the conical hill
in the photo's background?
Archaeologists suspect that it's a tumulus (burial mound) for King Antiochus. They have made several limited-scoped trial digs into the tumulus to find a buried tomb (hopefully with treasures), but without results.

When to come
It can be quite hot in July and August and snow sometimes blocks the approach road in the winter. Best overall periods are late April through early June and late September through October.
The most rewarding time of the day is at sunrise when the low-angled sun rays bathe the statues in reddish-orange hues. Sunset is the second best time.

Location in Turkey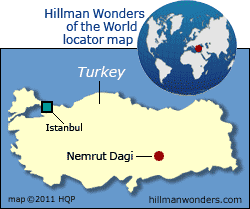 More turkey tips and insights
In Istanbul
Basilica Cistern
Blue Mosque
Dolmabahce Palace
Grand Bazaar
Hagia Sophia
Topkapi Palace
In other Turkey areas
Antalya
Bodrum
Cappadocia
Divrigi
Ephesus Ruins
Hierapolis
Mount Ararat
Nemrut Dagi
Pamukkale
Pergamon Acropolis
Ruins of Troy
Home page
Turkey Wonders - Top 10 rankings
Nemrut photo by Klearchos Kapoutsis - CC BY 2.0
Turkish Culture and Tourist Office

World's Top 100 Wonders
World's Top 1000 Wonders
Site map
My credentials
About my website and criteria
Reader testimonials