Ephesus
Travel tips you can trust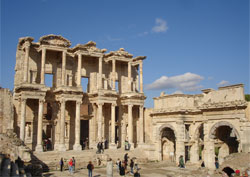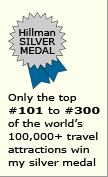 Why Ephesus
in Turkey is special
Two thousand years ago Ephesus was one of the world's biggest and most important cities. Today's ruins are sufficiently preserved to give you an impression of what it was like in a large Roman-era city.
Top 3 Ephesus
attractions

Library of Celsus
Its facade is striking (see left side of the photo above).

Curetes Street
It's lined with significant ruins including the Temple of Hadrian and Houses on the Slope.

Great Theatre
This amphitheatre could seat 25,000 spectators.
More Ephesus
tips and insights

How to pronounce
Ephesus: eff-uh-suss.

History in brief
Ephesus was ruled by the Greeks, Persians, Romans, Byzantines, and Ottomans. During Roman times, the city had hundreds of thousands of residents, a booming trade-based economy, and widespread influence. All this came to an end when the thriving harbor permanently silted up.

Temple of Artemis
It is one of the original Seven Wonders of the Ancient World and is only a short distance from Ephesus. Although only one column still stands, it's worth a visit to experience being at this historic site. Click Temple of Artemis to learn about it in my website's Seven Wonders of the World section.

Location in Turkey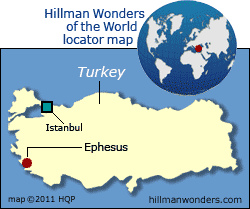 More turkey tips and insights
In Istanbul
Basilica Cistern
Blue Mosque
Dolmabahce Palace
Grand Bazaar
Hagia Sophia
Topkapi Palace
In other Turkey areas
Antalya
Bodrum
Cappadocia
Divrigi
Ephesus Ruins
Hierapolis
Mount Ararat
Nemrut Dagi
Pamukkale
Pergamon Acropolis
Ruins of Troy
Home page
Turkey Wonders - Top 10 rankings
Ephesus photo by Lyn Gateley - CC BY 2.0
Turkish Culture and Tourist Office

World's Top 100 Wonders
World's Top 1000 Wonders
Site map
My credentials
About my website and criteria
Reader testimonials