Mount Ararat
Travel tips you can trust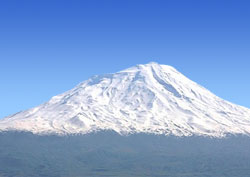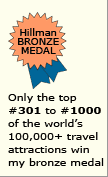 Why
Mount Ararat
is special
It is one of the world's most significant mountains due to its geographical and political prominence - and to its Noah's Ark connection.
Mount Ararat
tips and insights

Geography
This high volcano stands gallantly by itself on a vast plateau. It can be seen from four different countries: Turkey, Armenia, Iran, and Azerbaijan.

Political
The United Nations agrees with Turkey that Mount Ararat now belongs to it. Armenia, which once unequivocally had sovereignty, claims it's still Armenian territory.

Noah's Ark
According to the Bible's Book of Genesis, Noah's Ark settled on a mountain when the Great Flood receded. Note: It does not refer to a specific mountain but rather to one in the general region of Mount Ararat's location.

Mount Ararat
facts and tidbits

Two peaks
One is called the Greater and the other the Lesser Ararat (which is a satellite cone and, therefore, part of the same volcano).

Height
The Greater Ararat (see photo) rises 5137 meters or 17,854 feet above sea level.

Snow cap
It's thick but scientific evidence indicates it is shrinking, due to climate change.

Location in Turkey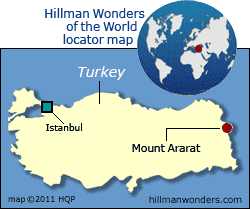 More turkey tips and insights
In Istanbul
Basilica Cistern
Blue Mosque
Dolmabahce Palace
Grand Bazaar
Hagia Sophia
Topkapi Palace
In other Turkey areas
Antalya
Bodrum
Cappadocia
Divrigi
Ephesus Ruins
Hierapolis
Mount Ararat
Nemrut Dagi
Pamukkale
Pergamon Acropolis
Ruins of Troy
Home page
Turkey Wonders - Top 10 rankings
Turkish Culture and Tourist Office

World's Top 100 Wonders
World's Top 1000 Wonders
Site map
My credentials
About my website and criteria
Reader testimonials