Pamukkale
pool terraces
Travel tips you can trust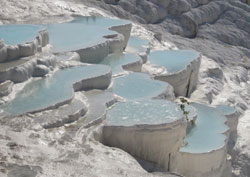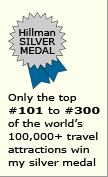 Why the
Pamukkale pool terraces
in Turkey are special
They staircase down a hill slope, creating an out-of-this-world landscape.
Pamukkale
pool terrace
tips and insights

How to pronounce
Pamukkale = pah-mook-kah leh

How the Pamukkale
pool terraces
were formed
The thermal spring water that flows down the hill is rich in dissolved calcium carbonate. It leaves deposits and hardens on the slope's surfaces, eventually creating the white-walled ponds we see today. The building process took centuries.

History in brief
This natural wonder has attracted tourists since Roman times. Sadly, in the late 20th century, hotels were built above it, diverting and sullying the thermal spring waters, which caused the Pamukkale pool terraces to lose volume and turn grayish. The government stepped in and tore down the offending hotels. Today, the pristine white hue is back. Ditto for the unadulterated and full-volume water.

Name
The Turkish word Pamukkale means "cotton castles" in English.

Sunglasses
Bring them. The intense reflections of the bright, shiny white travertine walls can be blinding on a sunny day.

Sister wonder
The Hierapolis archaeological site sits just above the Pamukkale pool terraces. Click Hierapolis to vew my web page on it.

Location in Turkey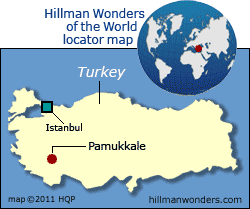 More turkey tips and insights
In Istanbul
Basilica Cistern
Blue Mosque
Dolmabahce Palace
Grand Bazaar
Hagia Sophia
Topkapi Palace
In other Turkey areas
Antalya
Bodrum
Cappadocia
Divrigi
Ephesus Ruins
Hierapolis
Mount Ararat
Nemrut Dagi
Pamukkale
Pergamon Acropolis
Ruins of Troy
Home page
Turkey Wonders - Top 10 rankings
Parmukkale photo by Le Grand Portage - CC BY 2.0
Turkish Culture and Tourist Office

World's Top 100 Wonders
World's Top 1000 Wonders
Site map
My credentials
About my website and criteria
Reader testimonials