Divrigi Great Mosque

Travel tips you can trust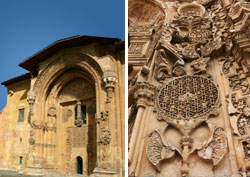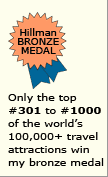 Why the
Divrigi Great Mosque
and Hospital in Turkey
are special
The two 13th century structures have elaborate stone carvings (see photo detail) that are both unique and magnificent.
Divrigi Great Mosque
and Hospital
tips and insights

How to pronounce
Divrigi: duh-vreh

Architectural style
It can be best described as a Baroque-influenced Islamic style.

Adjoining buildings
The mosque and hospital are two structures. They adjoin each other, creating the impression of a single-function building. The mosque occupies twice the space.

Roof
It adds interest to photographs because it sports two hexagonal cupolas that have the added function of being skylights, one for the mosque, the other for the hospital. There is also a mismatched pair of conical cones sprouting from the roof.

Who built the complex?
The ruling emir commissioned the mosque and his wife, the hospital.

Few tourists
Divrigi is a small, remote mountain town far from the well-beaten tourist paths.

Location in Turkey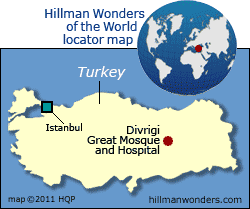 More turkey tips and insights
In Istanbul
Basilica Cistern
Blue Mosque
Dolmabahce Palace
Grand Bazaar
Hagia Sophia
Topkapi Palace
In other Turkey areas
Antalya
Bodrum
Cappadocia
Divrigi
Ephesus Ruins
Hierapolis
Mount Ararat
Nemrut Dagi
Pamukkale
Pergamon Acropolis
Ruins of Troy
Home page
Turkey Wonders - Top 10 rankings
Turkish Culture and Tourist Office

World's Top 100 Wonders
World's Top 1000 Wonders
Site map
My credentials
About my website and criteria
Reader testimonials