Okavango Delta
Safari
Safari tips you can trust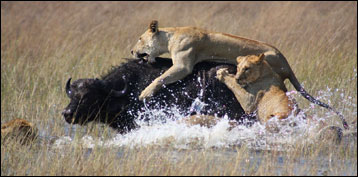 Okavango Delta
tips & insights

Water levels
Understanding waters levels can significantly influence your Okavango Delta safari is critical.
The Okavango Delta waters are highest in the late rainy season, lowest in the late dry season.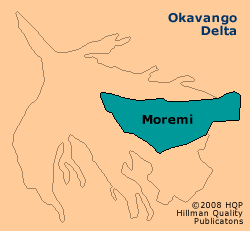 Key to my animated map:

Blue area
It illustrates the Okavango Delta shape during its annual high-water flood period.

Green area
It shows the Moremi Game Reserve, which overlaps the Okavango Delta. Moremi ranks #2 in my Best Botswana Safari area ratings.
The best time to visit depends on your priorities. Read my advice:

When to go
More
Okavango Delta
helpful pointers

Where the
water comes from
It comes from the highlands in Angola (north of Botswana), When heavy rains hit the highlands, it's only a matter of time when the water flows down the Okavango River and inundates much of the Okavango Delta floodplain.

Visual changes
The newly arrived water changes the dry landscape into a beautiful waterscape. Greenery and flowers abound.

Best Okavango Delta
lodges & camps
Read my candid list of the very best lodges and camps. Also learn how government policy has influenced quality.

Best lodges and camps
Learn More

for Okavango Delta tips and insights
Learn my other
safari tips & insights

Top 5 safaris
Top 10 safari mistakes
Kenya vs Tanzania

Botswana
Kenya
Kruger
Ngorongoro Crater
Serengeti
Tanzania

Big 5 safari animal list
Big 10 safari animal rankings
Animal facts and tidbits
What it's like on a luxury safari
Comprehensive safari locator maps

Photo by Corinata - CC BY-SA 3.0

World's Top 100 Wonders
World's Top 1000 Wonders
Site map
My credentials
About my website and criteria
Reader testimonials