Okavango Delta
Safari
page 2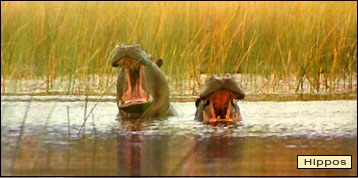 More
tips & insights
on the
Okavango Delta

Landscape and wildlife
The Okavango Delta is a mosaic of waterways, marshes, lagoons and islands inhabited by a rich and diverse collection of animal, bird and plant life. Waters are crystal clear and are home to a variety of fishes.
Although the Okavango Delta has an outstanding population of big game including lions and elephants, its finest aspect is birds.

Getting there
You reach private camps and lodges by road and/or by air (using airstrips). Sometimes watercraft are used for the final leg.

Getting around
You explore the Okavango Delta by foot - or in a dugout canoe or small boat - or on a horse or elephant.
Learn More

for Okavango Delta - Page 1
Learn my other
safari tips & insights

Top 5 safaris
Top 10 safari mistakes
Kenya vs Tanzania

Botswana
Kenya
Kruger
Ngorongoro Crater
Serengeti
Tanzania

Big 5 safari animal list
Big 10 safari animal rankings
Animal facts and tidbits
What it's like on a luxury safari
Comprehensive safari locator maps


World's Top 100 Wonders
World's Top 1000 Wonders
Site map
My credentials
About my website and criteria
Reader testimonials