Ngorongoro Crater tips
page 2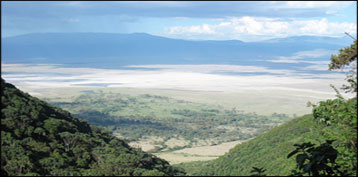 About
the crater

Immense
The crater is 20 kilometers (12 miles) in diameter. Its ring-shaped wall is as high as a 200 story building and hems in the 260 square kilometer (105 square mile) flat crater floor where a year-round population of approximately 30,000 large safari animals roam.
If you built stadium seats on the crater's sloping wall, you could comfortably sit over 30 million spectators.

Bring a sweater or jacket
The rim is about 2,300 meters (7,500 feet) above sea level, so expect chilly evenings and mornings even though you are near the equator.

Not a real crater
Technically, the Ngorongoro Crater is a caldera, not a true crater because its circular wall is the remnant of collapsed sides of a dormant or extinct volcano. Its peak once rose 8000 kilometers (26,000 feet) above sea level.
About the Ngorongoro
Conservation Area (NCA)

Geography
The Ngorongoro Crater is part of the vast NCA. It is only a tiny fraction of that land mass.

Neighboring lands
Learn More

for Ngorongoro Crater - PAGE ONE
More Ngorongoro Crater advice
Best lodges and camps
Best 5 safari areas in Tanzania
Kilimanjaro side trip
Olduvai Gorge side trip
Zanzibar side trip
Ngorongoro Crater - Top 100 medal winner
Learn my other
safari tips & insights

Top 5 safaris
Top 10 safari mistakes
Kenya vs Tanzania

Botswana
Kenya
Kruger
Ngorongoro Crater
Serengeti
Tanzania

Big 5 safari animal list
Big 10 safari animal rankings
Animal facts and tidbits
What it's like on a luxury safari
Comprehensive safari locator maps

Photo by Vincenzo Gianferrari Pini - CC BY-SA 2.5

World's Top 100 Wonders
World's Top 1000 Wonders
Site map
My credentials
About my website and criteria
Reader testimonials