Top 10
Wonders of Africa

rankings you can trust
Top 10 rankings
African Wonders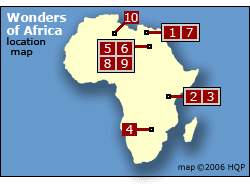 Click blue links to
read my web pages
on each wonder

Pyramids of Egypt


Serengeti Migration


Ngorongoro Crater


Victoria Falls


Karnak Temple


Nile River Cruise


Egyptian Museum


Valley of the Kings


Abu Simbel


Sahara Desert
Brief
descriptions

Pyramids of Egypt

The famed pyramids along the Nile are at their best in Giza, where the three greatest tombs stand. The one built 46 centuries ago for Pharaoh Khufu is one of the original ancient Seven Wonders.

Gaza, west of Cairo.


Serengeti Migration

A million wild animals take an annual circuit around the plains in search of fresh grass and water. The Serengeti Migration is nature's grandest show.

Kenya & Tanzania.


Ngorongoro Crater

Imagine being on the vast floor of an ancient collapsed volcano that is home to wild safari animals including lions, rhinos, zebras and elephants. That's the Ngorongoro Crater.

Tanzania.


Victoria Falls

Victoria Falls is one of the world's two most powerful falls. Its rim is 100 meters (330 feet) high and 1700 meters (1 mile)long.

Zambia & Zimbabwe.


Karnak Temple

Karnak Temple was the leading Egyptian spiritual center several thousand years ago. The complex was built along the Nile and is incredibly large. The star is the high columned Great Hypostyle Hall.

Egypt.


Nile River Cruise

Nearly every traveler inflicted with wanderlust dreams of cruising down the Nile. Some 200 cruise boats await them. The sights of ancient temples and everyday life along the river banks become cherished memories.

Egypt.


Egyptian Museum

Its many rooms house treasured antiquities. The King Tutankhamun ("King Tut") room is the most popular. The Egyptian museum also has a mummy room, which openly displays several pharaohs.

Cairo, Egypt.


Valley of the Kings

The Valley of the Kings is an arid valley near the Nile River. Ancient pharaonic tombs (including King Tut's) were dug deep into its steep slopes. Some tomb walls have remarkable wall paintings.

Egypt.


Abu Simbel

Four immense statues of the great Egyptian pharaoh Rameses protect the entrance to his Abu Simbel temple overlooking the Nile River.

Northern Africa.


Sahara Desert

The Sahara Desert stretches 5,000 kilometers (3,000 miles) across northern Africa. Despite its severe dryness, the Sahara Desert has villages, trade routes, and trans-Sahara tours.

Northern Africa.

See my other Top 10 lists


Man Made Wonders
Natural Wonders

Wonders of Africa
Wonders of Asia
Wonders of Europe
Wonders of North America
Wonders of South America


Bizarre Festivals
Carnivals
Classical Music Festivals
Film Festivals
Rock/Pop/Jazz Festivals

Adventure Travel Books
Art Museums
Best Cities for Travelers
Best Countries for Travelers
Car Race Events
Dive Destinations
Explorers
Houses of Worship
Most Famous Beaches
Most Visited Cities
Most Visited Countries
Movies with Travel
Romantic Islands
Sights in the Sky
Sports Events
Travel Health Mistakes
Travel Photo Mistakes
Travel Photo Selfies
Travel Pre-Trip Mistakes
Travel Safety Mistakes
Travel Songs on Cities
Travel Theft Mistakes
US National Parks
World Cuisines



World's Top 100 Wonders
World's Top 1000 Wonders
Site map
My credentials
About my website and criteria
Reader testimonials