World's Top 10
man made wonders

rankings you can trust
Top 10 rankings
Man made wonders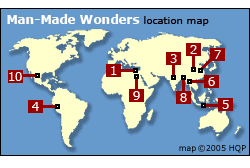 Click blue links to
read my web pages
on each wonder

Pyramids of Egypt


Great Wall of China


Taj Mahal


Machu Picchu


Bali


Angkor Wat


Forbidden City


Bagan Temples & Pagodas


Karnak Temple


Teotihuacan
Brief
descriptions

Great Pyramids of Egypt

The top man made wonder of the world comprises three pyramids. They were about 4500 years ago. Khufu's (the most famous) is one of the Ancient Seven Wonders).

Gaza, near Cairo.

Pyramids of Egypt

Great Wall of China

This man made wonder once stretched 5,400 miles across northern China. The best preserved Great Wall sections lie north of Beijing.

Northern China.


Taj Mahal

Many consider the white-marbled Taj Mahal the world's most beautiful building.

Agra, India.


Machu Picchu

Machu Picchu has been called the "Lost City of the Incas". Its Pre-Columbian ruins rest spectacularly on a mountain saddle.

Peru.


Bali

The tropical island of Bali is blessed with scenic rice terraces, mesmerizing traditional dance & music, stimulating arts & crafts, exotic temples, interesting food, to name just several of the island's enchantments.

Indonesia.


Angkor Wat

The architectural masterpieces (now ruins) were built in the jungle in 12th century. Then, Angkor Wat was mysteriously abandoned and eventually hidden by jungle growth.

Cambodia.


Forbidden City

The Forbidden City is an enormous palatial compound. Emperors ruled China from it for almost 500 years.

Beijing, China.


Bagan Temples & Pagodas

Bagan is an immense religious complex built in the 11th to 13th centuries. It once had over 10,000 Buddhist structures.

Myanmar.


Karnak Temple

Karnak is a colossal temple along the Nile River. It was the religious epicenter of the Egyptians several thousand years ago.

Egypt.


Teotihuacan

Teotihuacan, an ancient religious complex, is best known for its Pyramid of the Sun, which soars as high a 27-story building.

North of Mexico City.

See my other Top 10 lists


Man Made Wonders
Natural Wonders

Wonders of Africa
Wonders of Asia
Wonders of Europe
Wonders of North America
Wonders of South America


Bizarre Festivals
Carnivals
Classical Music Festivals
Film Festivals
Rock/Pop/Jazz Festivals

Adventure Travel Books
Art Museums
Best Cities for Travelers
Best Countries for Travelers
Car Race Events
Dive Destinations
Explorers
Houses of Worship
Most Famous Beaches
Most Visited Cities
Most Visited Countries
Movies with Travel
Romantic Islands
Sights in the Sky
Sports Events
Travel Health Mistakes
Travel Photo Mistakes
Travel Photo Selfies
Travel Pre-Trip Mistakes
Travel Safety Mistakes
Travel Songs on Cities
Travel Theft Mistakes
US National Parks
World Cuisines



World's Top 100 Wonders
World's Top 1000 Wonders
Site map
My credentials
About my website and criteria
Reader testimonials