World's Top 10
archaeological sites

rankings you can trust
Top 10 rankings
Archaeological Sites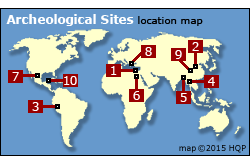 Definition: An archaeological site is where archaeologists have, haved, are, or plan to conduct research.
Ranking criteria: I rank the sites based on their appeal to sophisticated travelers (you) rather than to archeologists. The latter - being scientists - has different priorities than yours.
Click the blue links below to read my informative web pages on the world's top 10 archaeological sites:

Pyramids of Egypt


Great Wall of China


Machu Picchu


Angkor Wat


Bagan Temples & Pagodas


Karnak Temple


Teotihuacan


Acropolis


Qin TerraCotta Warriors


Chichen Itza

My brief descriptions of the
top 10 archaeological sites

Great Pyramids of Egypt
This site has three giant pyramids - each was constructed around 4500 years ago. The most famous pyramid - Khufu's - is one of the Ancient Seven Wonders.

Gaza, near Cairo.

Pyramids of Egypt

Great Wall of China
In its heyday, it stretched 5,400 miles across northern China. Today, the best preserved sections lie north of Beijing.


Machu Picchu
This Pre-Columbian archaeological site sits spectacularly on a mountain saddle - and bears the nickname "Lost City of the Incas.

Peru.


Angkor Wat
It was constructed in the 12th century and was was mysteriously abandoned - and was eventually hidden by jungle growth. Today the ruins are majestically exposed..

Cambodia.


Bagan Temples & Pagodas
This extensve religious complex was constructed in the 11th to 13th centuries and boasted more than 10,000 Buddhist structures.

Myanmar.


Karnak Temple
This colossal temple was built along the Nile River. Several thousand years ago it was the Egyptian's religious epicenter.


Teotihuacan
This ancient religious aracheological site is best known for its Pyramid of the Sun, which is as tall as a 27-story building.

North of Mexico City.


Acropolis
It's the symbol of the ancient Greek civilization. Today, Greece's ancient literature, art, and zeal for democracy still influence our world today.

Athens.

Acropolis

Qin TerraCotta Warriors
These life-sized pottery warriors and horses had been buried for over 2,200 years. The site is the most important archaeological discovery of the 20th century.


Chichen Itza
This archelogical site is the best preserved and most interesting of the many Mayan ruins in Mexico and Central America.


Runners up include

Abu Simbel

Baalbeck

Borobudor

Carthage

Colosseum of Rome

Dazu Rock Carvings

Delphi

Easter Island

Ephesus

Epidaurus

Khajuraho

Leptis Magna

Luxor

Meenakshi

Monte Alban

Nazca Lines

Nemrut Dagi

Olympia

Paestum

Palenque

Palmyra

Persepolis

Petra

Pompeii

Roman Forum

Stonehenge

Step Pyramid Djoser

Tikal

Uxmal

Valley of the Kings

Yungang Grottoes

and many more.
See my other Top 10 lists


Man Made Wonders
Natural Wonders

Wonders of Africa
Wonders of Asia
Wonders of Europe
Wonders of North America
Wonders of South America


Bizarre Festivals
Carnivals
Classical Music Festivals
Film Festivals
Rock/Pop/Jazz Festivals

Adventure Travel Books
Art Museums
Archaeological Sites
Best Cities for Travelers
Best Countries for Travelers
Car Race Events
Dive Destinations
Explorers
Houses of Worship
Most Famous Beaches
Most Visited Cities
Most Visited Countries
Movies with Travel
Romantic Islands
Sights in the Sky
Sports Events
Travel Health Mistakes
Travel Photo Mistakes
Travel Photo Selfies
Travel Pre-Trip Mistakes
Travel Safety Mistakes
Travel Songs on Cities
Travel Theft Mistakes
US National Parks
World Cuisines



World's Top 100 Wonders
World's Top 1000 Wonders
Site map
My credentials
About my website and criteria
Reader testimonials