Antarctica
history in brief
page 1 of 3
History in photos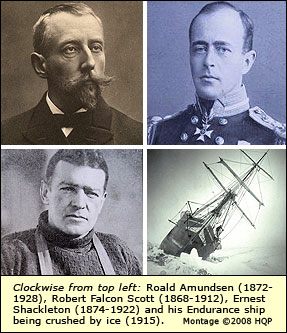 Shackleton's Endurance
Antarctica's
most heroic story

1909
The British explorer Ernest Shackleton came close to being the first human to reach the South Pole, but was forced back when supplies ran perilously low.

Two years later
Another explorer accomplished the feat, so Shackleton fashioned a new goal: To be the
first to cross the Antarctica Continent. In 1915 he sailed into the Wendell Sea
to begin the trek.

Unfortunately
Shackleton's Endurance ship became trapped in ice and was slowly crushed. The Endurance began listing (see photo) and eventually sank, leaving the Shackelton team shipless in the middle of nowhere. Miraculously, he was able to lead his men safely back to civilization on a long journey on foot over perilous ice and on a tiny lifeboat over open seas.
Learn more on
Antarctica's history.
Click:
PAGE TWO - Race to the South Pole
PAGE THREE - More interesting facts


Best 3 Antarctica cruise ships
When to go
Who should go - and not go
Small versus big ship
Itineraries
Costs
What-to-pack checklist

Zodiac landings
How to identify penguins
Antarctica history in brief
Interesting facts & tidbits
Glossary
More pointers
Photo gallery

Top 10 experiences
Suite photos
Deck plans
Onboard enrichment
Dining & entertainment
Other onboard activities
Silver Explorer ship

Antarctica Cruise - Home page
Top 10 wonders of Antarctica

World Wonders - Top 100 rankings
World Wonders - Top 1000 list
My credentials
About my website and criteria
Reader testimonials
Site map


World's Top 100 Wonders
World's Top 1000 Wonders
Site map
My credentials
About my website and criteria
Reader testimonials